Lassen and surrounding communities set to start year long celebration of centennial mark of Lassen Peak eruption and the establishment of Lassen Volcanic State Park
AS Memorial Day weekend comes into focus this week a destination to consider for the family may be Lassen Volcanic National Park. Not only is it a gem in the Northern Sierra and one of four National Parks in the Sierra that we believe everyone should experience, but this weekend will mark the kick off of a year long celebration of the Centennial mark of the Lassen Peak Eruption that gave us this national treasure.
The information below is provided via the Lassen Volcanic National Park website and Summer Newspaper. For more information about what other activities are planned click here:
On May 22, 1915 a large explosive eruption of Lassen Peak brought national attention that set the stage for the establishment of Lassen Volcanic National Park on August 9, 1916. Beginning spring of 2015, Lassen Volcanic, along with neighboring communities, will celebrate Lassen's 100th anniversary. Special park and community events will occur in 2015 and 2016 to commemorate the special event.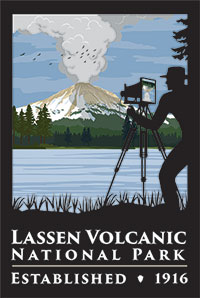 Lassen Peak Eruption Celebration
May 22-25, 2015 | Various Locations
Join Lassen Volcanic staff and scientists from the U.S. Geological Survey (USGS) for special events celebrating a series of Lassen Peak eruptions that brought Lassen to the world stage and helped paved the way for the establishment of the park on August 9, 1916. Events include USGS presentations, an eruption celebration and commemoration, campfire talks, guided walks, and night sky viewing from the Devastated Area.
View the event schedule
.
---
May 22, 2015 marks the centennial of the Lassen Peak eruption. It was one hundred years ago that an explosive eruption on Lassen Peak devastated nearby areas, raining volcanic ash as far as 200 miles to the east. This explosion, the most powerful in a 1914 – 1917 series of eruptions, provided the impetus for the establishment of Lassen Volcanic National Park on August 9, 1916. In celebration of the Lassen Peak eruption, the park is teaming up with the U.S. Geological Survey (USGS) to provide park visitors with an assortment of activities and presentations during the month of May. The focus of events will highlight the significance of the Lassen Peak eruptions and current monitoring and research by USGS seismologists of potentially active volcanoes, like Lassen Peak, throughout the Cascade Range. View the event schedule at go.nps.gov/lavo/centennial. This year's Lassen Peak eruption centennial also provides a precursor and stepping-stone to the centennial of both Lassen Volcanic National Park and the National Park Service in August 2016. In celebration of these two centennial signature events, Lassen Volcanic has numerous activities planned for next summer. These include a Dark Sky Dinner Fundraiser event, the official reopening of the Lassen Peak Trail and the culminating "Day in the Park" festival that will feature ranger programs, hikes, demonstrations, activities, and special guest presentations. As the park's new superintendent, it's exciting to be a part of the centennial celebrations and what the future holds for the park—I am equally honored to be a part of that future. I invite you to come join in the fun and celebrate the next century of your park 

1915 Eruption – The centennial of Lassen's last eruption provides a reminder that California is "volcano country," with major eruptions happening about as often as catastrophic earthquakes. The 1914 – 1917 eruption sequence at Lassen Peak was the last to occur in the Cascade Range before Mount St. Helens erupted in 1980. A year-long series of intermittent steam-driven explosions began on May 30, 1914 and was followed in mid-May 1915 by eruption of a lava dome at the summit of Lassen Peak. A large explosion on the evening May 19, 1915 caused an avalanche and volcanic mudflow (lahar) on the northeast flank of Lassen Peak and a flood in Hat Creek Valley. Three days later, on May 22, the eruption sequence climaxed with a vertically directed explosion, which caused a pyroclastic flow in the Devastated Area, more lahars, ash fall, and another flood in Hat Creek Valley. After May 22, activity returned to intermittent steam explosions, which waned over the next two years. The 1914–1917 eruptions were of relatively small volume (at least 20 times smaller than Mount St. Helens in 1980) and the effects of the eruptions were mostly confined to the area now within Lassen Volcanic National Park. Only during May 19–22, 1915 were areas outside the park affected. If a similar eruption happened today, the effects on the park and in the Hat Creek Valley would be significant.
The park highway in the Devastated Area would be buried and the bridge over Lost Creek possibly destroyed. The water system serving the Manzanita Lake area could be compromised. Highway 89 in the Old Station area would be cut and perhaps in other places in the lower Hat Creek Valley as well. The effects of floods would be significant at least to the Pit River (30 miles north) and could adversely impact hydroelectric facilities. Many residences and farmlands would be inundated and power lines damaged. Drifting ash would likely disrupt transportation systems over extremely large areas for hours to days, including roads and cars, airports and aircraft, and railways. Even a light dusting of ash can seriously reduce visibility on highways, make roads slippery for cars, strand travelers, damage vehicles and aircraft, and result in the temporary shut down of airports and highways. The USGS Volcano Hazards Program has conducted research in and around the park for many years to determine the eruptive history of the area and identify potential hazards. The findings indicate that during the last 100,000 years, at least 72 volcanoes in and around the park in addition to Lassen Peak have erupted—the youngest are eruptions at Cinder Cone (1666 A.D.) and Chaos Crags (about 850 A.D.). Since eruptions in the future are most likely to be similar to those in the past, these USGS investigations provided the information necessary to produce a volcano hazards assessment for the Lassen region. Recent work in collaboration with academic institutions has focused on the processes that lead to eruptions from magma chambers at depth. Warning signs generally precede volcanic eruptions, and the USGS California Volcano Observatory monitors the Lassen volcanic center and other volcanoes in the state using seismic and deformation networks that can detect the signals of an impending eruption.
For more information see volcanoes.usgs.gov/observatories/calvo and go.nps.gov/lavo/volcanoes. Michael Clynne & Patrick Muffler, USGS Scientists