Experience the Thrills of Edgewood Golf & Country Club in Lake Tahoe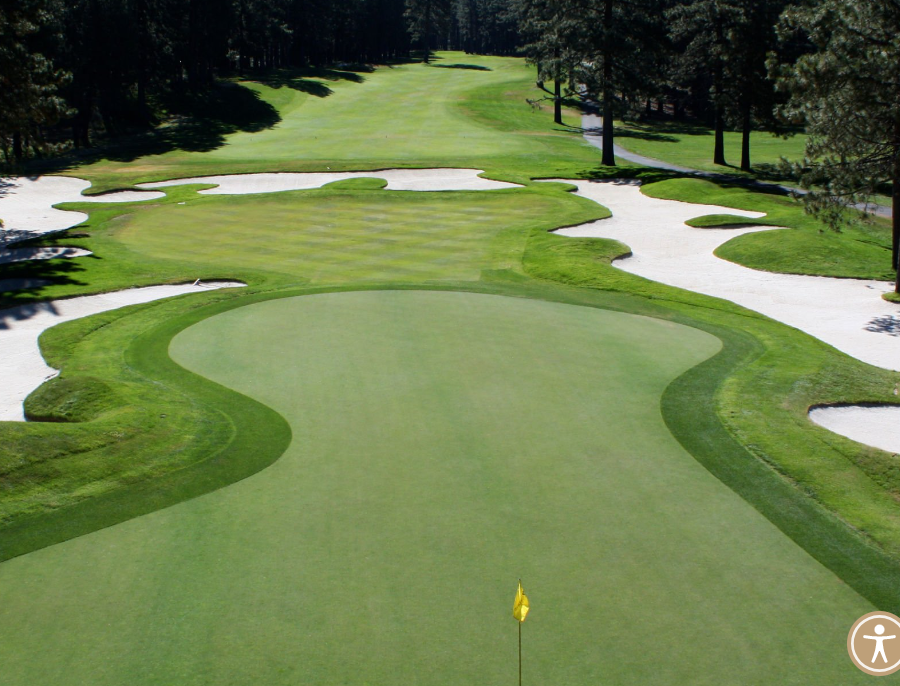 Imagine a golfing getaway that not only challenges your skills on the course but also immerses you in the heart-stopping beauty of nature. Look no further than Edgewood Golf & Country Club, nestled in the awe-inspiring landscapes of Lake Tahoe. Whether you're an avid golfer seeking new challenges or an adventure enthusiast in search of an adrenaline rush, this hidden gem offers a golf vacation experience unlike any other.
Edgewood championship course is open to the public and is consistently ranked among the top courses in the country. It offers stunning views of Lake Tahoe reflecting the nearby mountains and greens set just off the sand of North America's largest alpine lake, but the 1968 George Fazio layout is super interesting as well with elevation changes, cool doglegs and plenty of water hazards. The par-5 16th plays right into the lake and starts one of the best finishing stretches in golf.
Since its creation by George Fazio in 1968, and its later renovation by world-renowned golf architect Tom Fazio, Edgewood has captured the imaginations and tested the mettle of golfers of all skill levels. 1980's USGA US Public Links Championship was held here, as was 1985's US Senior Open Championship, and it is home to the American Century Championship.
Rated as one of Golf Digest's top public golf courses, Edgewood has welcomed some of the biggest names in the game. Players and Celebrities like Tiger Woods, Arnold Palmer, Phil Mickelson, Tony Romo, Steph Curry and Michael Jordan have all teed up here, adding their masterful strokes to this mighty legend on the lake.
Let's dive into the four features and benefits that make Edgewood the perfect destination for adventure travelers seeking an unforgettable experience in Lake Tahoe.
Awe-Inspiring Natural Surroundings: Lake Tahoe's breathtaking beauty is unrivaled, with its crystal-clear waters reflecting the majestic mountains that encircle it. As an adventure traveler, you crave the thrill of exploring extraordinary landscapes, and Edgewood Golf & Country Club allows you to do just that. Picture yourself teeing off against a backdrop of snow-capped peaks and deep blue waters—an exhilarating sight that will leave you breathless.
Immerse yourself in the extraordinary beauty of Lake Tahoe, combining your passion for adventure with the tranquility of nature.
Challenging Championship Golf Course: Edgewood's championship golf course, designed by renowned architect Tom Fazio, is an adventurer's paradise. Each meticulously crafted hole presents a new challenge, with undulating fairways and perfectly manicured greens demanding precision and strategy. As you navigate the course, you'll encounter natural obstacles, like water features and strategically placed bunkers, that will test your skills and keep you on your toes.
Embrace the adventure of golf as you navigate a challenging course, honing your skills amidst nature's unique obstacles.
Thriving Recreational Opportunities: For adventure travelers seeking more than just golf, Lake Tahoe offers an abundance of thrilling activities. After a rewarding day on the course, embark on a kayaking expedition across the glistening waters or paddleboard along the shoreline, taking in the awe-inspiring vistas from a different perspective. If you're visiting during winter, hit the slopes at world-class ski resorts nearby, where adrenaline-pumping skiing and snowboarding adventures await.
Extend your adventure beyond the golf course, indulging in a variety of exhilarating activities that Lake Tahoe has to offer, creating a well-rounded and unforgettable vacation.
Luxurious Amenities and Unwind: After an adrenaline-filled day, unwind and rejuvenate at Edgewood's luxurious clubhouse. Savor delectable cuisine while gazing at the stunning lake views, allowing your senses to be captivated by the serenity of the surroundings. Pamper yourself with a well-deserved massage or indulge in a spa treatment that will replenish your energy. Moreover, the pro shop offers top-of-the-line golf apparel and equipment to enhance your game and ensure you're fully prepared for your next adventure.
Experience the best of both worlds, indulging in luxurious amenities that provide relaxation and rejuvenation while still satisfying your thirst for adventure.
Edgewood Golf & Country Club in Lake Tahoe is a dream destination for adventure travelers seeking an extraordinary golf vacation. With its awe-inspiring natural surroundings, challenging championship golf course, diverse recreational opportunities, and luxurious amenities, this hidden gem promises an unforgettable experience. Immerse yourself in the heart-stopping beauty of Lake Tahoe while teeing off against nature's backdrop, and then venture out to explore the thrilling activities that await. Prepare yourself for a golf vacation that seamlessly blends adventure and relaxation, creating memories that will last a lifetime. Embrace the call of adventure and let Edgewood Golf & Country Club in Lake
When Does Edgewood Golf Course Open and Close for the Season
Edgewood is typically open from May- October each year. However, being a Mountain course, seasons can begin earlier and stay open later based on seasonal snow impact.
Is Edgewood Golf Course a Public Course
Edgewood Golf Course is open to the public.
Edgewood Lodge Resort
Experience the epitome of luxury and relaxation at Edgewood Golf Resort, a haven nestled in the picturesque landscapes of Lake Tahoe. Step into a world where refined elegance meets breathtaking natural beauty, and let your worries melt away as you indulge in the exceptional guest experience offered at the resort's luxurious Lodge. From the moment you arrive, you'll be greeted with warm hospitality and immersed in a serene atmosphere that invites you to unwind and rejuvenate.
At the heart of the Edgewood Golf Resort experience is the Lodge, a sanctuary designed to provide guests with a tranquil and unforgettable stay. With its sophisticated architecture and stunning views of Lake Tahoe, the Lodge offers a sense of exclusivity and comfort. Immerse yourself in spacious and elegantly appointed rooms and suites, featuring modern amenities and plush furnishings that ensure a restful night's sleep. Wake up to the serene beauty of the surrounding nature and savor a delicious breakfast prepared by talented chefs, who strive to delight your taste buds with a range of culinary delights.
Throughout your stay, attentive and friendly staff will cater to your every need, ensuring that your experience at Edgewood is nothing short of extraordinary. Unwind by the sparkling swimming pool, surrounded by lush greenery and accompanied by breathtaking lake views. Pamper yourself at the resort's luxurious spa, where skilled therapists will transport you to a state of bliss with indulgent treatments and therapies. Whether you choose to dine at the resort's fine restaurants, explore the nearby outdoor activities, or simply relax in the serene ambiance of the Lodge, every moment at Edgewood Golf Resort promises to be an escape from the ordinary.
Prepare to be captivated by the beauty of Lake Tahoe and the unparalleled guest experience offered at the Edgewood Golf Resort's Lodge. From luxurious accommodations to impeccable service, every aspect of your stay has been designed to provide you with a truly unforgettable experience. Embrace the tranquility and let yourself be immersed in the charm and sophistication of this remarkable destination.
Is Edgewood Golf Course a Public Course
Edgewood Golf Course is open to the public.
What are the Green Fees At Edgewood Golf Course
Green Fees at Edgewood, similar to many things in Tahoe are seasonally priced. Best to check with Edgewood course when making a reservation for exact fees for your trip, but here is a guideline based on expected 2023 rates.
MAY 2023- DAILY $250 TWILIGHT | 3:00 PM $175
JUNE 2023 DAILY $300 TWILIGHT | 4:00 PM $225
JULY 2023 DAILY $350 TWILIGHT | 4:00 PM $275
JULY 12 – 16 | CLOSED FOR THE AMERICAN CENTURY CHAMPIONSHIP
AUGUST 2023 DAILY $350 TWILIGHT | 3:30 PM $275
SEPTEMBER 2023 DAILY $300 TWILIGHT | 3:00 PM $225
OCTOBER 2023 DAILY $250 TWILIGHT | 2:00 PM $175
American Century Championship
Each July Edgewood Golf Course hosts the American Century Championships. The American Century Championships is a highly anticipated annual event that brings together sports legends, celebrities, and avid golf fans for a thrilling competition like no other. Held at the stunning Edgewood Tahoe Golf Course in Lake Tahoe, this tournament showcases the skills and competitive spirit of renowned athletes from various fields. As spectators line the fairways, they are treated to an extraordinary display of talent and charisma, as legendary athletes go head-to-head in a friendly yet fiercely contested battle for the coveted title.
The American Century Championships is more than just a golf tournament; it's an unforgettable experience that combines the excitement of the sport with the glamour of celebrity culture. From Hall of Fame athletes to Hollywood stars, the event attracts a star-studded lineup of participants who add an extra layer of excitement and entertainment. Fans have the opportunity to watch their favorite sports icons and celebrities showcase their golfing skills, while enjoying the breathtaking views of Lake Tahoe that serve as a spectacular backdrop. With a unique blend of sportsmanship, camaraderie, and a touch of showmanship, the American Century Championships has become a must-attend event for both golf enthusiasts and celebrity aficionados alike.