Celebrate National Park Week 2022 April 16 to 24!
National Parks USA- April 15, 2022 – The Kick off of the spring and summer season across the nation in our National parks will start Saturday April 16 with a Free Access Pass to all our National Parks. Each year across the nation the National Parks service collaborates together to host a week long event of special features and educational opportunities to highlight our favorite national monuments and protected areas.
Every April, during the presidentially proclaimed National Park Week, we join with the National Park Foundation, the official charity of America's national parks, to celebrate America's treasures. National Park Week is a time to explore amazing places, discover stories of history and culture, help out, and find your park.
Celebrate National Park Week 2022 with us April 16 to 24! Parks across the country will host a variety of special programs, events, and digital experiences. Entrance fees are waived on April 16 to kick off National Park Week and encourage everyone to enjoy their national parks.
Theme Days: sPark Connections
This year's National Park Week theme is "sPark Connections". With more than 400 national parks and National Park Service programs and partnerships in communities across the country, there is something new for everyone! And a lot closer to home than you may think. Each day of National Park Week, sPark a connection with us exploring a new theme. Share you National Park Week experiences and memories on social media using hashtags #NationalParkWeek and #sParkConnections. You can also use a special hashtag for each theme day.
April 16: sPark Discovery National Park Week kicks off with a fee-free day to encourage everyone to find something new by visiting a national park, especially one that may be close to home, a park you haven't considered visiting, or one you never realized is a national park! What new national park will you discover? #sParkDiscovery
Traditionally the First Day of National Park Week is called Park RX Day –
Reasons to connect with nature on ParkRx Day:
Contact with nature improves your physical, mental, and spiritual health.
Getting outdoors can make getting exercise more fun, can boost your mood and your immunity, and combat obesity.
For children, getting outdoors foster active play, which is associated with physical, cognitive, and social benefits.
For adolescents, getting outdoors improve mental and social health during what is often a challenging time of life.
Getting outdoors is also linked to physical and mental health benefits, overall quality of life among adults, especially older adults.
Nature's health benefits can be enjoyed by simply viewing a tree from your window.
Regional National Parks in or Near the Sierra Nevada
California Redwoods National Park
Joshua Tree national Park
Great Basin national Park
Sunday, April 17: sPark Creativity National parks have inspired artistic expression and creativity for generations. What is your park muse? What masterpiece can you create? #sParkCreativity
Sunday is also the kick off Parks Volunteer Week – Did you know that each year nearly 300,000 volunteers collecitvely contribute more than 6.5 million hours of volunteer service at our national parks? We call these volunteers in the Volunteers In Parks Program our "VIPs." They work side-by-side with our National Park Service employees in parks and programs across the nation to help preserve our nation's most precious natural, historical, recreational, and cultural treasures.

Each year, we celebrate National Volunteer Week to recognize the contributions of our volunteers. This year's celebration takes place April 17-23, 2022.
Join the celebration:
Thank a volunteer. Are you visiting a national park site during National Park Week? Say thank you to the volunteers you meet!
Sign up to volunteer. Learn more about volunteering or find a volunteer event near you.
Share your volunteer experience. Are you a proud volunteer? Share a photo and your volunteer story. Be sure to tag @National Park Service and your favorite park, and use #NPSVolunteer and #NationalParkWeek.
You can make our great places better. Become a VIP and volunteer with us today!
Monday, April 18: sPark Collaboration We get along with a little help from our friends. Meet our many partners that help expand our reach and offerings and connect people to parks. How can you get involved or participate in opportunities? #sParkCollaboration
Tuesday, April 19: sPark Innovation The National Park Service incorporates the latest technology to support conservation and preservation efforts while consistently working to improve the visitor experience. How can we surprise you with innovation? #sParkInnovation
Wednesday, April 20: sPark Opportunities On Workforce Wednesday, learn about the work we do and the employment opportunities available in the National Park Service and with partner organizations. How can you join? #sParkOpportunities
Thursday, April 21: sPark Preservation The National Park Service is a leader and partner in preservation of historic, cultural, natural and recreational resources nationally—and even internationally! How can you get involved in preservation? #sParkPreservation
Friday, April 22: sPark Action On Earth Day we look at the health of the environment and how we impact its wellbeing and vice versa. What actions can you do to contribute to a healthy world? #sParkAction
Earth Day is a global celebration on April 22 each year encouraging education and stewardship of the planet's natural resources. Whether in a backyard, neighborhood green space, or a magnificent national park, the National Park Service provides opportunities for everyone to discover and enjoy the physical and psychological benefits that come with spending time outdoors.
Earth Day is during our annual National Park Week celebration. As part of our daily theme "sPark Action," the National Park Service is sharing the benefits and work we do with connected conservation and encouraging everyone to get involved in citizen science and volunteering in parks. Join us on social media as we explore the earth sciences and stewardship. Share your Earth Day experiences and favorite memories with parks using #EarthDay,#NationalParkWeek, and #sParkAction.
Saturday, April 23: sPark Curiosity The National Park Service preserves and protects unique places with fascinating stories and unique landscapes. What are you curious about? What fascinating things can you discover? #sParkCuriosity
National Junior Ranger Day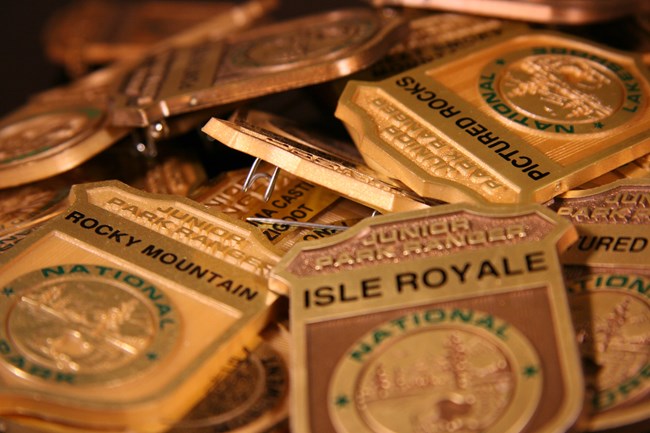 The Junior Ranger Program is a great way to explore national parks. You can learn about nature sounds, night skies, or even the Transcontinental Railroad! You'll also learn why national parks matter and how you can be a part of the team that helps keep parks healthy.

This year's National Junior Ranger Day is on Saturday, April 23! We don't care what age you are—just "explore, learn, and protect" your national parks online and become an official Junior Ranger. Look for the virtual badges you can print out and post on your refrigerator.
Sunday, April 24: sPark Memories Generations of visitors have created lasting memories in national parks. What memories and traditions will you create? #sParkMemories
Listening to Podcasts From experiencing the colorful walls and hidden stories of the Grand Canyon, to learning about National Heritage Areas you are part of, to discovering how you can get involved in stewardship of our national parks, "sPark" a connection with all the National Park Service has to offer. Here are nine ways and nine podcast series you should check out.