Closing of Downieville, CA Store location after nearly 30 years of business Allows for Future Vision to Grow
Downieville Ca, April 27, 2022 – I was doing a little research this morning on the current status of the Sierra Buttes Trail projects and discovered an announcement on the Yuba expeditions Website that caught me by Surprise. "YUBA EXPEDTIONS IN DOWNIEVILLE IS CLOSING!" Now before you freak like I did, you need to hear the rest of the story.
Mike Ferrentino, former employee and founder of the SBTS (Sierra Buttes Trail Association) penned a well written article explaining that a combination of vision, recovery from fires and Covid it was with heavy hearts that they needed to make a business decision about their bandwidth moving forward.
In order to achieve our mission of supporting mountain communities through trail recreation, we have had to take careful stock of how to best manage our time, our people, and our sanity. After much soul searching, we have made the decision to close the Yuba Expeditions bike shop at 208 Main Street in Downieville, CA. This location, the fifth and longest lasting home of Yuba Expeditions, has been an awesome home for the extended families of Yuba, SBTS and the Downieville Classic, and making this decision has not been easy. So many good times, so many good memories, so many games of Crud!

Mike Ferrentino ~ SBTS
The great news is that this group of trail champions and the Yuba expeditions experiences are not going away. They are consolidating efforts in their Quincy Ca location and the 208 Main Street in Downieville will serve as a public-facing base of SBTS operations for our trail crew in Downieville, be a gathering point for future bike and ebike guiding services, and act as a hub to support the Downieville Classic when it returns in 2023.
Our connection to Downieville – the place where this all started and the role model community of our Connected Communities Project where the town economy has thrived for decades thanks to recreation – is stronger than ever. This location is central to that connection, and will continue to serve as our base of operations as we work with land managers, local government, business and local residents to protect, maintain and enhance our shared environmental and recreational resources. Mike Ferrentino ~ SBTS
---
Yuba Expeditions Adventure Center in Quincy
Yuba Expeditions Adventure Center in Quincy, CA is a gathering place for connoisseurs of the outdoors. We will provide information on recreational opportunities to all trail users (bike, hike, moto, 4×4, equestrian) in the Lost Sierra including Quincy and surrounding communities of Graeagle and Clio.
Mt. Hough Trail: 12 miles of world class singletrack with 4000 ft of descent
Mount Hough singletrack is less chunky than Downieville, but still flowy and ripping fast and favorite for kids of all ages. Snow conditions permitting access to the top.
Tollgate connector Trail — the newest section of an all new trail that will create an alternate route from top to bottom on Mt. Hough.
Indian Falls Ridge 2 (IFR2) — a gotta earn-your-turns adventure ride in a more remote area of Mount Hough
New Chandler trail loop — over five new miles of moto legal single track
Demo high end carbon Santa Cruz Bicycles
Santa Cruz Demo Bikes – S/M/L/XL
---
Check out what we accomplished since 2004!
114 miles of NEW trails built
1,479 miles of trails maintained
113 trail projects completed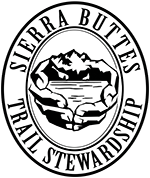 Get more the Sierra Buttes Trail Stewardship infomation by clickity here.