A land of 14,000 foot peaks, clear blue mountain lakes, glacial carved canyons, and granite cliffs. Mono County is your gateway to High Sierra hiking & backpacking. Hundreds of miles of trails wind through the Inyo and Humboldt- Toiyabe National Forests, including the John Muir, Ansel Adams, and Hoover Wilderness.
As a staff we find ourselves drawn to Mono county year round for hikes and snowshoe adventures that are nothing short of spectacular. These Top ten hikes are a short list of the possibilities that exist with a drive down Highway 395 into Mono County.
Out Top Ten Hikes in Mono County
Tioga Pass near Lee Vining
On the east side of Tioga Pass, this stunning alpine loop trail linking numerous lakes is located on the north side of Saddlebag Lake enters the Hoover Wilderness. In summer months, a boat taxi is available to take you across to the trailhead. This is a moderate hike that is either 4.2 miles round trip, with an additional 2-3 miles if you start from the parking area and hike to the trailhead. This hike is at 10'000 feet in elevation.
Hikers and backpackers can make several distinct trip sin this area. Travel east to see Greenstone Lake and visit the Conness Lakes. Or head to the East of the lake and make your way around to steelhead, shamrock, and Lake Helen.
Highway 395 South of Bridgeport
Located Just south of Bridgeport California, between Twin Lake and Virginia Lakes, the Green creek basin is a stunning hiking location leading to multiple mountain lake destinations. In the Fall the green creek trail is a local favorite for the all-color hikes, as the trail leads hikers through one of the largest stands of aspen in the region.
Backpackers often use Green creek as an exit point on the Virginia Lakes backpacking loop. Day hikers enjoy green Lake, East Lake and Gilman lake in an a moderate day hike experience. This hike will travel up and over 9000 feet in a day hike.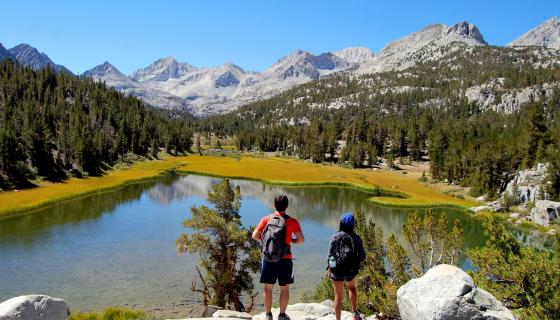 LITTLE LAKES VALLEY
Rock Creek Canyon
Located at the top of Rock Creek Road, this relatively easy trail offers dramatic lake-after-lake views. This trail is one-of-a-kind from the very beginning and is a great hike for the whole family. This is an easy to moderate hike at 5-10 miles round trip, depending on your start point. TIP: For a post-hike treat, drop by Rock Creek Lakes Resort for a delicious home-made dessert!
CRYSTAL LAKE TRAIL:
Mammoth Lakes
Hikers in search of alpine grandeur close to Mammoth will find that Crystal Lake fits perfectly. A series of switchbacks up from Lake George offers exceptional views of Mammoth Lakes Basin. With plenty of blue lakes, green forests and red mountains to be in awe of, this moderate hike will surely please all in the group at only 4 miles round trip.
June Lake Loop
From the north end of Highway 158 (June Lake Loop), take the Parker Lake Road to the trailhead parking. A short hike along the aspen-lined creek has a few switchbacks and offers big rewards with a serene lake tucked at the base of the Sierra Nevada's. You can also sneak a peek at Mono Lake from this gorgeous hike. TIP: Afterwards, head on down into June Lake Village for hand-made candy at Cathy's Candy. This trail is easy to moderate at 4 miles round trip.
Lee Vining
One of the most highly regarded hikes in the Eastern Sierra for wildflowers, fall colors, waterfalls and even a beaver dam, the trailhead is at the end of Lundy Lake Road, off US Highway 395, 7 miles north of Lee Vining. This is a moderate hike at 4.6 miles round trip.
Bridgeport
At the foot of Dunderberg Peak, this trail climbs steadily through alpine meadows, and passes numerous lakes and an old mining cabin, finally arriving at Summit Pass with views of Sawtooth Ridge. Be prepared for a strenuous hike at 10 miles round trip.
ROBINSON CREEK TRAIL:
Bridgeport
At Twin Lakes and Annett's Mono Village, the trail to Barney Lake winds through evergreen forests, and traverses meadows and aspen groves with sweeping views of dramatic snow=capped peaks. This is a moderate hike at 8 miles round trip.
LEAVITT MEADOW TO LANE LAKE:
Walker
The most beautiful scene on the ever-scenic Sonora Pass Road is Leavitt Meadow— spacious and surrounded by mountains. This leisurely hike shadows the old, historic Sonora Pass Route to the shores of two high sierra lakes, after which you descend into Leavitt Meadow. The spectacular view southward, down Leavitt Meadow to Tower Peak is phenomenal. This is an easy to moderate hike at 6.8 miles round trip.
FERN LAKE TRAIL:
Devils Post Pile State Park
The Fern Lake trail follows Snow Canyon toward King's Creek and Summit Meadow on the way to Fern and Anona Lakes. Start from Shuttle stop #6 in front of the Devils Postpile Visitor Center it's less that a mile to the junction with a bridge across the river where you leave the John Muir Trail. Trips going to Beck Lake or Minaret Falls have different trail designations and quotas. Fern Lake trail does not include trips that will continue on the John Muir Trail.
Common Destinations: Fern Lake, Anona Lake, loop to Beck Lake trail or go west via Summit Meadow and Granite Stairway into Sierra National Forest to Bench Canyon or Isberg Pass.
This list of Trails is a combination of Sierra REC Staff picks from past experiences and resources at https://www.monocounty.org