Inyo National Forest Opens Lakes Basin Road Wednesday Here Are The Most Recent Update For Popular Sierra Passes and Scenic Byways
Sierra Rec Magazine, Eastern Sierra News – June 22, 2017-  Almost on cue with the Summer solstice in 2017 road crews and county agencies have started to get the upper hand on the 2017 snowpack and access to some of our favorite passes and recreational areas.  Yesterday Inyo National Forest announced the opening of Lakes Basin Road for the 2017 season and Last weekend Sonora Pass gates opened for visitors on the eastern side of the mountain. The High Sierra Passes are a summer tradition for many in our area and those traveling into the region. We have been contacted by so many who have made June Plans for the Eastern Sierra that have been shocked at the limited access they might have when arriving. The snow was such a blessing, but it did delay summer recreation for many. Here are the latest High Sierra Pass updates so you can plan your weeks adventures ahead.

The reality, however still is setting in that access does not look normal to us this year as even as we enter our favorite areas via car we find plenty of snow still on the ground and limited access to parking and favorite trail locations. Earlier this week it was announced that the gates of Tioga pass were open to allow cars to drive up to Yosemite National Park via Tioga pass. However, this did not mean that the Yosemite Gates were open for access.  And as we read that the Lake Basin is now open we still discover that Many lakes are still partially covered in snow and many camping parking areas that we are accustomed to still are not available.
Here are  the latest updates from the Easter Sierra
Inyo National Forest – Mammoth Ca.
While the road has been plowed, employees have continued with routine road maintenance such as filling pot holes and clearing culverts. They are still widening and opening parking lots covered in snow, placing dumpsters and porta potties, removing hazard trees and energizing water systems.
"I would like to acknowledge the tireless work of the Town of Mammoth Lakes maintenance crews, the forest's engineering and fire staff, and numerous others who have made the effort to open the Lakes Basin Road," said Jon Regelbrugge, Mammoth and Mono Lakes District Ranger. "It is no small feat to clear this area after this winter."

Horseshoe Lake remains closed. The area is still under snow, which traps the naturally occurring carbon dioxide. Additionally, the Old Mammoth Road to Lakes Basin remains closed with significant storm damage.
There is currently not potable water in Forest Service areas so visitors should bring water with them or may be able to purchase water from concessionaires as they open.
Visitors should expect significant snow still in the area, including on trails and on many popular recreation sites like campgrounds and marinas. Parking will be limited. Other areas may be flooded as snow melts.
Additionally, visitors should expect that the lakes are still partially ice covered. It is in no way safe to traverse the lakes. Creeks and streams are flowing at dangerous levels: please avoid them and keep close track of children and pets.
"While we welcome people to come and enjoy the beauty of the Lakes Basin area," said Shields Richardson, Mayor, Town of Mammoth Lakes, "please take care to experience the area safely."
Additional Road Closures in INYO:
Lower Rock Creek Road, from Pine Creek to Birchim Lane, CLOSED due to flooding. Alternate route for the
community of 40 Acres is via Gorge Road. Date closed: 6/20/17
• Pine Creek Road, west of Rovana, CLOSED due to potential for flooding. Date closed: 6/20/17
• North Round Valley Road, north of Pine Creek Road, CLOSED due to flooding (bridge damage). Date closed:
6/20/17
• Newman Street, about 1 mile north of Stewart Ranch Road near Big Pine. CLOSED due to potential for flooding.
Date closed: 6/20/17
• Tinemaha Road (dirt road), from Fuller Road to Taboose Creek Road, CLOSED due to flooding. Date closed
6/20/17
• Goodale Creek Road , from Aberdeen Resort to the Goodale Creek Campground, CLOSED due to flooding. Date
closed: 6/21/17
• Onion Valley Road, above Seven Pines, CLOSED – due to potential for flooding. Date closed: 6/20/17
• Seven Pines cabin community, west of Independence, road CLOSED due to runoff crossing the bridge. Date
closed: 6/20/17
• North Lake Road, CLOSED due to runoff related road damage. Date closed: 6/17/17
• Brockman Lane, between 395 and Dixon Lane, CLOSED due to flooding (runoff crossing road). Date closed
6/2/17
• FLOODED / USE CAUTION: South Round Valley Road is flooded – not currently closed – anyone requiring access
to this area is advised to use extreme caution.
Tioga Pass: Tioga Road
Road crews continue to work on getting the Tioga Road open. The Olmsted Point avalanche zone is still active. There is no estimated opening date. The Tioga Road is closed to vehicles, bicycles, and pedestrians from South Fork Bridge (6.5 miles east of Tuolumne Grove/NatureBridge in the Crane Flat area) to Tioga Pass. The Tioga Road (Highway 120 through the park from 6.5 east of Crane Flat to Tioga Pass) is closed due to snow. There is no estimated opening date; in years with similar snowpack, the road has opened in late June or early July.

Sonora Pass:
Highway 108:
Sonora Pass is OPEN as of June 13, 2017, at 2 PM. – However early visitors have shared images of 6-12 feet of snow roadside still o the pass. Recreation is limited to winter activity at this time on the higher elevations. Leavitt Meadow and Pinecrest Lake, however, have excellent recreational opportunities for fishing and hiking right now.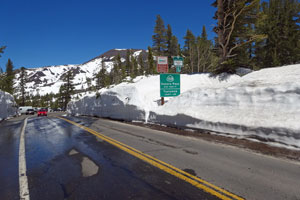 Sonora Pass usually remains open until the first heavy snowfall of the winter arrives. Often that occurs sometime in early November, but snow can temporarily close the pass at any time. Traditionally the pass re-opens in mid-May, but once again, even after it opens, late season storms can cause it to close again.
Monitor Pass –
Opened last month, have not seen an update on the snow but as of two weeks ago, there were still feet of snow on top.
Ebbett's Pass:

Ebbetts Pass remains CLOSED for road repairs as of June 18, 2017. The road is open to the east end of Lake Alpine TO 7.2 MI WEST OF THE JCT OF SR 89 /AT RAYMOND MEADOWS/ /EBBETTS PASS/ (ALPINE CO).  1-WAY CONTROLLED TRAFFIC AT VARIOUS LOCATIONS FROM 1.1 MI EAST OF ARNOLD /AT UPPER MORAN RD/ TO 2.6 MI EAST OF ARNOLD /AT BIG TREES PARK ENTRANCE/ (CALAVERAS CO)

For the latest road conditions and closures, check with Caltrans.
Call 1-800.427.7623 or visit Department of Transportation – Road Conditions.
Click here for latest Camping availability in Stanislaus National Forest
HWY 88 Carson Pass
Carson Pass has been open most of the spring season, plenty of snow still around Caples Lake and Silverlake region. Carson Pass PCT Access adn Five Lakes loop still has heavy snow. We have started to see images on Facebook of people who are braving the area and seeing a few of the lakes start to thaw but still looks like plenty of snow to traverse.

Other Scenic Routes:
Gold Lake Hwy out of Graeagle is open to traffic. Lots of snow still once you reach Gold Lake and Frazier Falls has limited access.
HWY 89 from Lake Almanor into Truckee is in great condition with wildflowers blooming.  Campgrounds along the rivers are open.
Loon Lake Recreational Area on the Western Sierra is open and access has been cleared. Limited access to Rubicon Trail area still from run off.

We hope these updates help you plan for your weekend ahead in recreation.
---
Sierra REC Magazine is dedicated to sharing the events, news and adventure opportunities that exist in The Sierra Mountains. From Lassen Volcanic National Park to the North down through the Central Sierra and the Lake Tahoe Basin through the rugged eastern slopes of the Mono county and Yosemite National park to the southern tips near Sequoia National Park and the PCT trail. We invite you to share stories, trips and photos from your adventures in the  Sierra. Please join us on Facebook, Twitter Google +  and You-Tube or email us your events and photos at sierrarecinfo@gmail.com  #goexplore