We celebrate today with the NPS our US Military Service Men and Women. Thanks for your Protection!
Monday April 19th is Military Monday in our National Parks System. We'd like to thank you for yours and your family's military service. We all have family that has served or is serving, so it is with much honor that these men and women should be celebrated daily.
Many national parks have direct connections to the American military—there are dozens of battlefields, military parks, and historic sites that commemorate and honor the service of American veterans. National parks and our programs and partners also offer endless opportunities for today's military, veterans, and their families to enjoy their public lands and their own neighborhoods.
Military Monday is happening on April 19, 2021, as part of the annual National Park Week celebration. Learn about a new program granting free access to U.S. military veterans and Gold Star Families To our National Parks.
We have linked below several Military stories regarding the history of our national parks and how the United States military has left its mark on our local favorites.
Yosemite's World War II Hospital
The Yosemite Naval Hospital was a learning experience for the military health system.  Initially thought of as a quiet place to isolate recovering veterans, treatments at the Ahwahnee evolved to include social interaction and an understanding of the mind-body healing powers of one of America's finest natural wonders.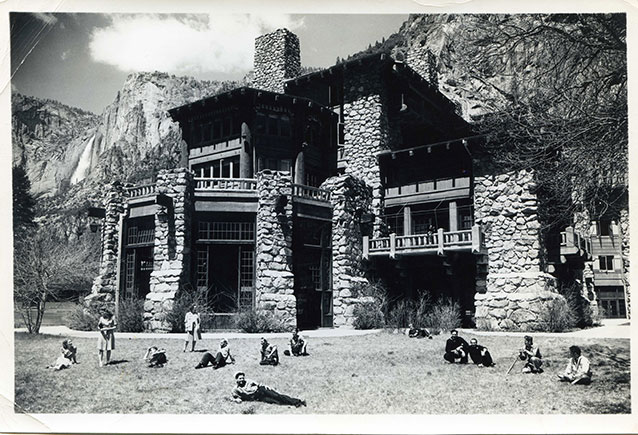 Yosemite's luxurious Ahwahnee Hotel was the brainchild of the National Park Service's first director, Stephen Mather. Almost from the first moment he saw Yosemite Valley, Mather envisioned building a luxury resort hotel to attract the wealthier class of visitors and to set the standard of 'Park-ictecture' to be followed for generations. Read More ...
Military Flights over Public Lands
Over a large area of the upper Mojave Desert and souther Sierra Nevada is a special military-use airspace "complex" known as R-2508. This complex stretches approximately 140 miles from north to south (Bishop to Edwards Air Force Base) and 100 miles east to west (the Nevada State Line to Tehachapi.) This airspace overlies large amounts of public land – including Death Valley National Park!
Where do they fly in the park?
In most of the park – the portion that was originally Death Valley National Monument – the military voluntary restricts their flight to 3,000 feet vertically and laterally (this started in 1977.) These flights will be high above you and you might not even notice them.

Areas added to the park after 1977 are not subject to this voluntary restriction and the flights can be as low as 200 feet with exceptions. These areas are mostly remote, but there is one popular viewing location on Highway 190, Father Crowley's Vista Point.
The Buffalo Soldiers
The legacy of African-American participation in the armed forces dates back to our first war: the Revolutionary War. During the Civil War over 180,000 black men fought for the Union Army in volunteer regiments.

But it was not until after the Civil War that African Americans could enlist in the Regular Army. In 1866, Congress created six segregated regiments which were soon consolidated into four black regiments. They were the 9th and 10th Cavalry and the 24th and 25th Infantry. They were to become known as "The Buffalo Soldiers." Read more…
Patrolling Sequoia National Park
Six days after escorting President Roosevelt, Captain Young led Troops I and M on a 323-mile road march from the Presidio to Sequoia National Park. The journey across the state took sixteen days of serious horseback riding averaging over twenty miles a day.
Since 1891 the U.S. Cavalry had provided troops to manage and protect California's national parks each summer. With the prior movement of Troops K and L to Yosemite National Park, and now the movement of Troops I and M to Sequoia National Park, 1903 was the first time African American soldiers were given the responsibility of park patrol for an entire summer season. Previously in 1899, the 24th Infantry patrolled Yosemite. Read more….
On Christmas day in 1951, a VC-47A transport left Travis Air Force Base (AFB) in Fairfield, California on a three-day assignment. The flight crew was destined for Great Falls AFB in Montana with two additional passengers. For an unknown reason, the plane instead landed at Fairchild AFB in Spokane, Washington and stayed overnight.
The two passengers remained at Fairchild AFB and five new passengers boarded the return flight the following day. Despite several significant storm warnings along the west coast, the flight departed on December 26, 1951 with eight men on board. The last tracking location was over Klamath Falls, Oregon at 2:17 pm.
The plane crashed approximately one hour later, as determined by two watches later found in the wreckage. Search parties scoured the area until mid-January. By then, severe weather prevented further rescue attempts and the military declared that all men were lost. Read More…