Ranking and Unveiling The Sierra Nevada National Forest Lands
Sierra Nevada – California's National Forests are a treasure trove of natural beauty, offering an escape into serene wilderness and abundant recreational opportunities. From towering trees to picturesque lakes, these eleven national forests in the Sierra Nevada region provide a breathtaking backdrop for outdoor enthusiasts and nature lovers. In all The Sierra Nevada is home to Ten different National Forest managed areas. For National Forest week we thought it might be fun to highlight each forest and then rank them based on the Visitation and popularity of each.
We will rank them based on their public popularity, highlighting the unique features and emphasizing the importance of each national forest.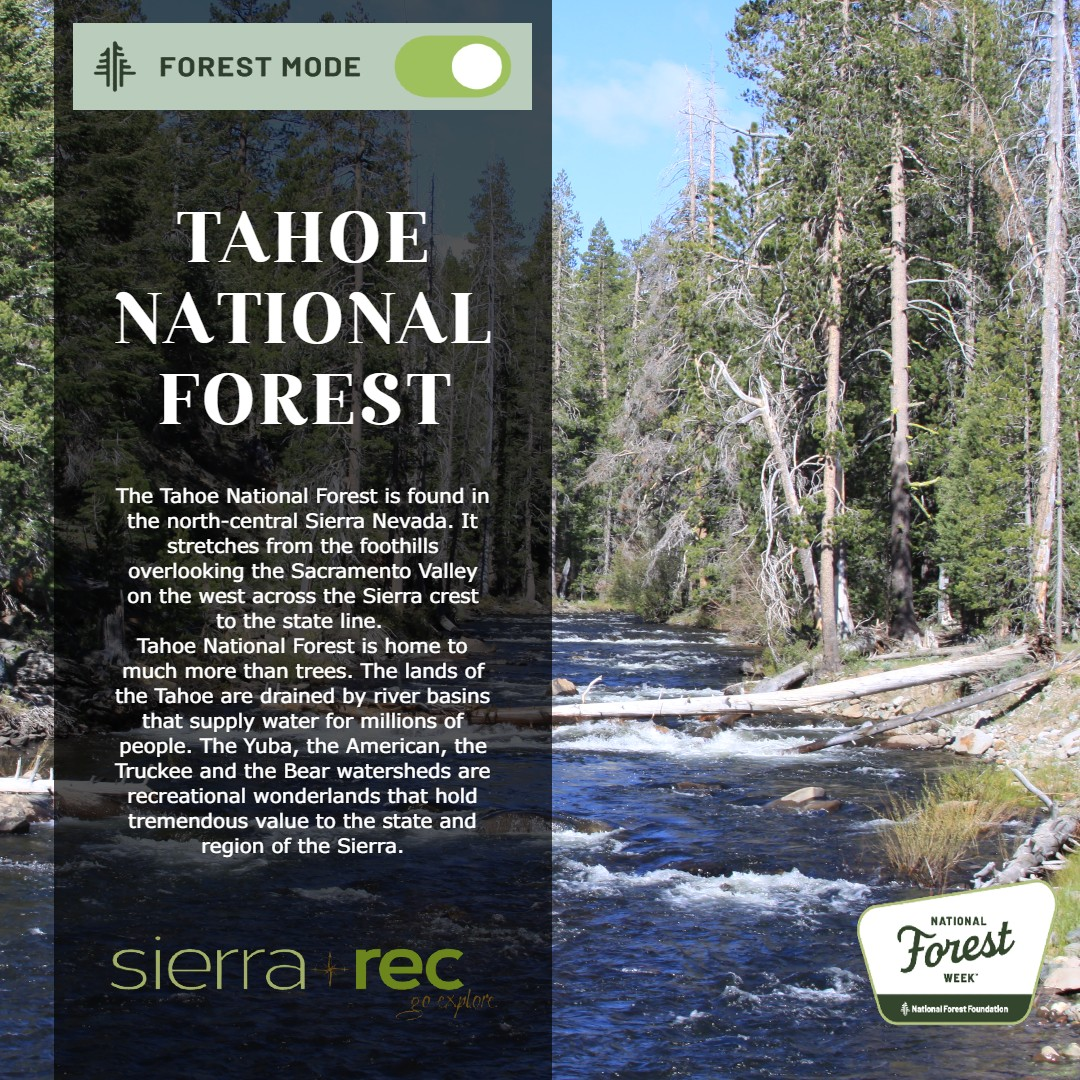 Tahoe National Forest
Encompassing over 870,000 acres, Tahoe National Forest is a paradise for outdoor enthusiasts. Discover the breathtaking beauty and diverse landscapes of Tahoe National Forest. Spanning the crest of the Sierra Nevada mountains in northern California, this expansive forest offers a range of terrains, from golden foothills to towering peaks. Explore the renowned Granite Chief Wilderness Area, where solitude and stunning trails await. Enjoy exceptional downhill and cross-country skiing, immerse yourself in the rich history of the region, and marvel at the productive timberlands. Divided into four Ranger Districts, including Yuba River, American River, Sierraville, and Truckee, each area offers specific recreation activities. Don't miss the Big Bend Visitor Information Center and Big Bend Museum, where you can learn more about the forest's incredible past. Experience the natural break in the Sierra Nevada at Calpine Lookout, a historic tower once used for spotting forest fires. With its rich heritage and abundant recreational opportunities, Tahoe National Forest is a true haven for nature enthusiasts and outdoor adventurers alike.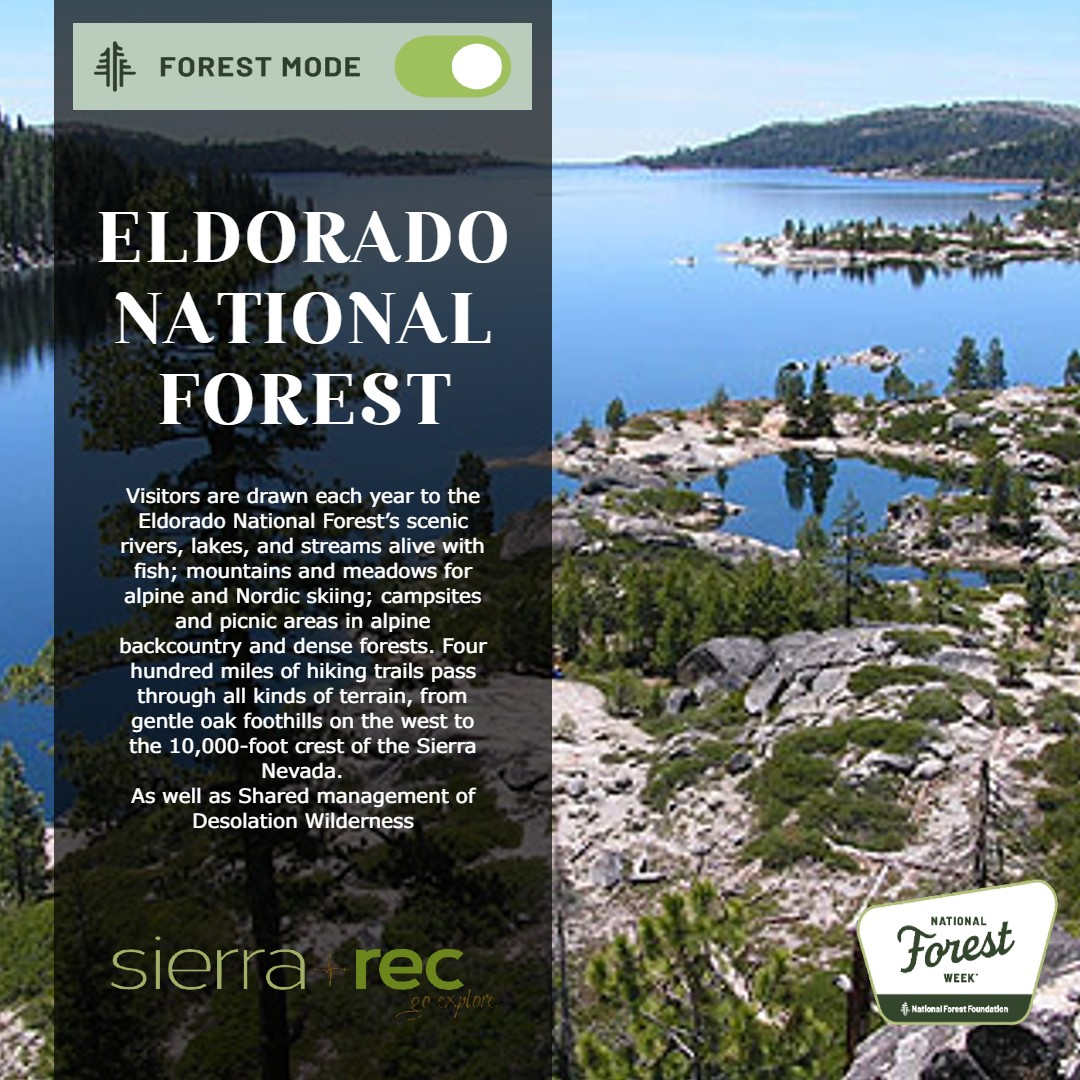 Eldorado National Forest
Sitting at second on our list of most popular national forest in the Sierra region for recreation and discovery, Eldorado National Forest is a true gem spanning an impressive 786,000 acres. Its diverse landscape, characterized by deep river canyons, shimmering lakes, and majestic granite peaks, beckons outdoor enthusiasts from near and far. Prepare to be captivated by the enchanting Desolation Wilderness, renowned for its pristine alpine lakes, awe-inspiring granite landscapes, and legendary hiking trails like the Pacific Crest Trail and the Tahoe Rim Trail. Conveniently located just a few hours' drive from the vibrant San Francisco Bay Area and Sacramento, Eldorado National Forest showcases a remarkable elevation range, starting from 1,000 feet in the foothills and ascending over 10,000 feet along the Sierra crest. Explore the forest's breathtaking canyons, home to the Mokelumne, Cosumnes, American, and Rubicon rivers, as well as its picturesque plateaus with gentle relief. With water as a prominent resource, the forest receives ample precipitation, resulting in over 600 miles of fishable streams and 297 lakes and reservoirs that offer exceptional fishing experiences. Whether you're seeking thrilling adventures or peaceful moments in nature, Eldorado National Forest caters to every interest, boasting over 70 day-use and overnight facilities designed to accommodate individuals, families, and groups. Embark on a journey of recreation and discovery, where Eldorado National Forest unveils its magnificent wonders at every turn.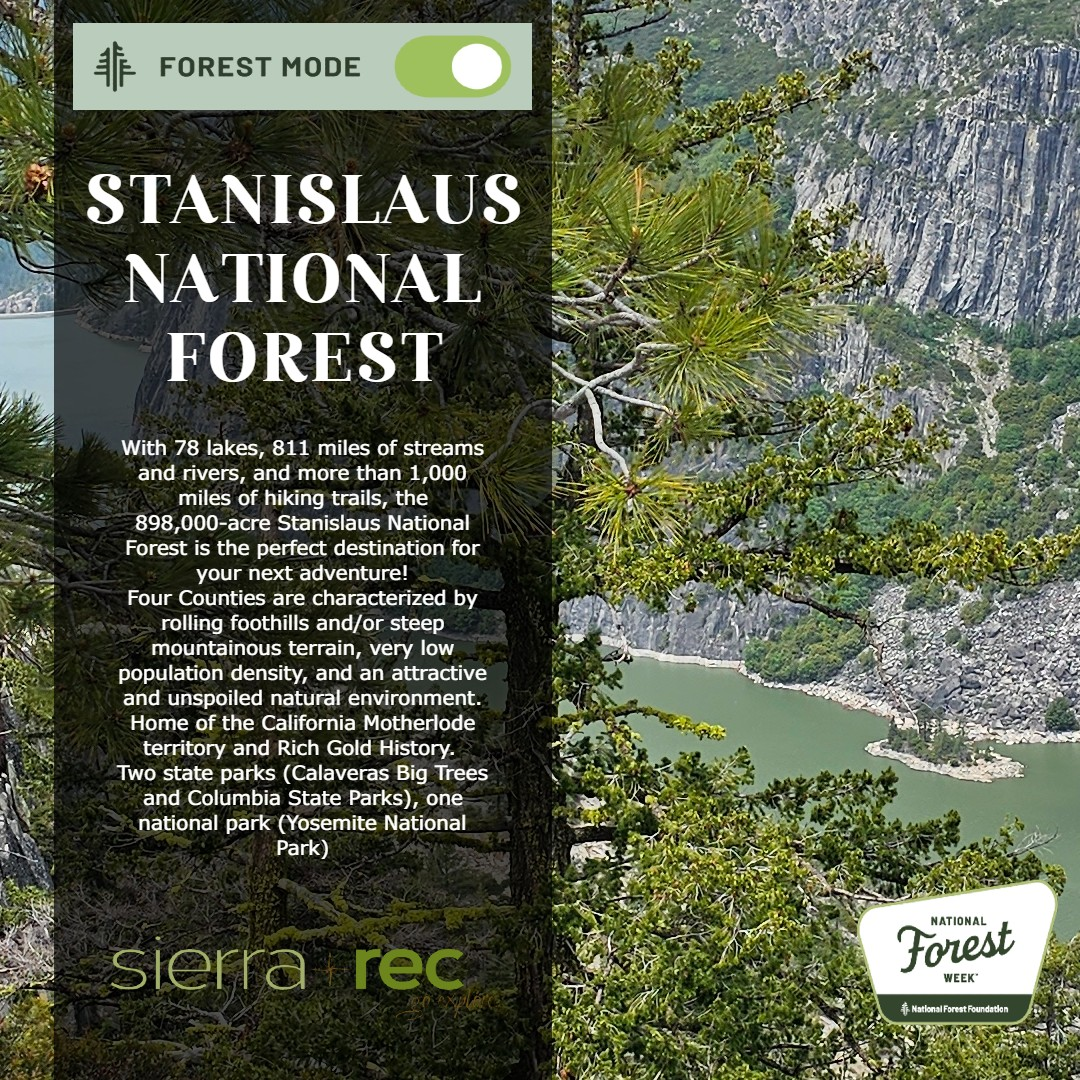 Stanislaus National Forest
Covering approximately 898,000 acres, Stanislaus National Forest is a haven for nature lovers. one of the oldest and most captivating National Forests in existence since February 22, 1897. Named after the Stanislaus River, which flows within its boundaries, this forest offers a plethora of recreational activities that will leave you enthralled. Immerse yourself in the wonders of nature as you engage in water activities, fishing across the extensive 800-mile network of rivers and streams, camping under starlit skies, and embarking on breathtaking hikes. For the adventurous, explore the thrilling rapids of the Tuolumne River or enjoy a serene canoeing adventure on one of the many picturesque lakes. Discover the designated Wild and Scenic Rivers, preserving their free-flowing nature and protecting their pristine beauty. Among them, the Tuolumne Wild and Scenic River spans 29 miles and the Merced Wild and Scenic River stretches across 11 miles, offering unforgettable whitewater rafting experiences during spring and summer. The Stanislaus National Forest contains all of the Emigrant Wilderness and portions of the Carson-Iceberg and Mokelumne Wildernesses. The pristine and dramatic scenery in the Wilderness Areas is a backdrop to outstanding hiking, backpacking, and horseback riding opportunities.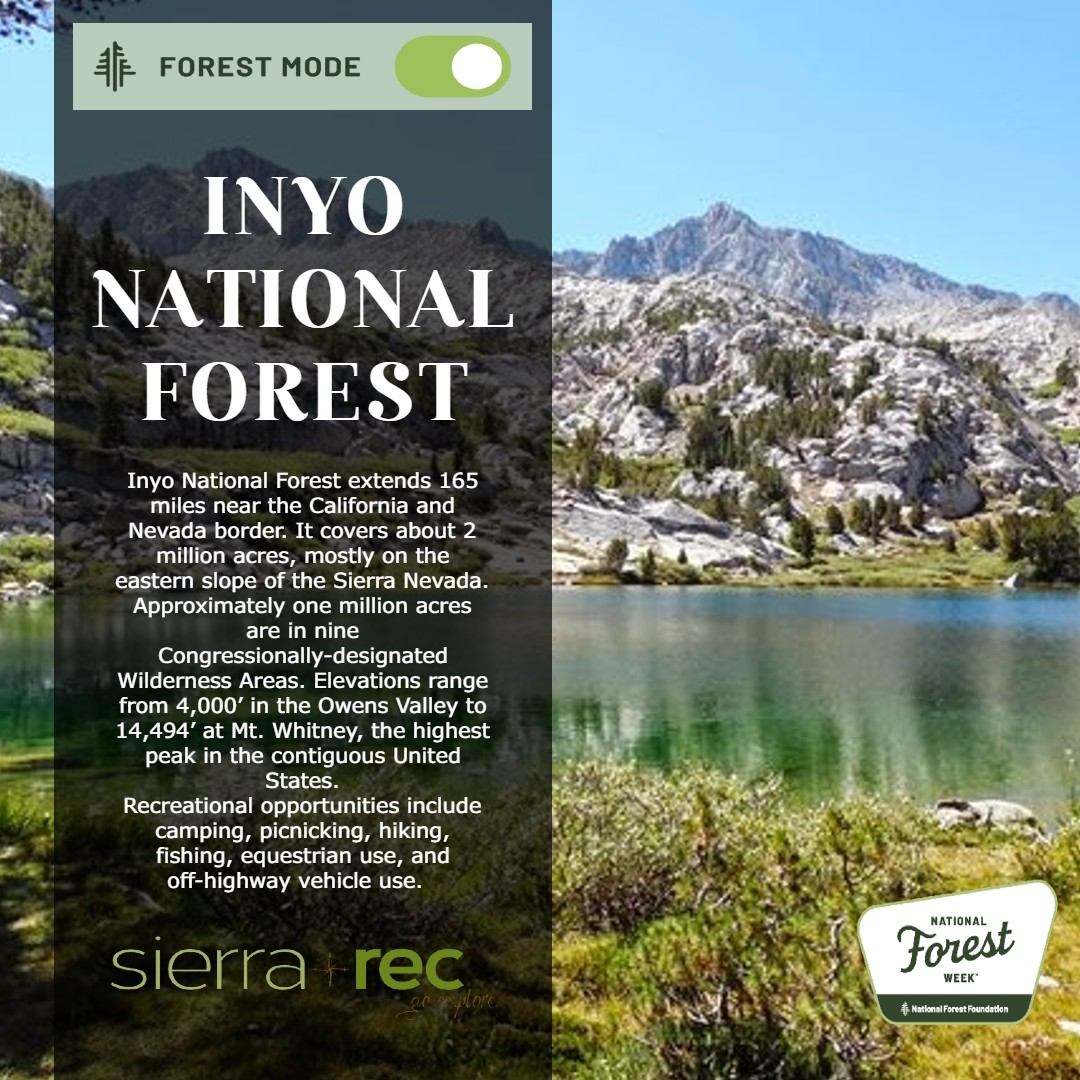 Inyo National Forest
Spanning over 1.9 million acres, Inyo National Forest offers unparalleled outdoor experiences. It is home to the majestic Eastern Sierra Nevada Mountains, including Mount Whitney, the highest peak in the contiguous United States. Hikers flock to the John Muir Wilderness and Ansel Adams Wilderness within the forest to embark on unforgettable adventures amidst pristine alpine lakes, rugged peaks, and meandering streams. Traverse the legendary John Muir Trail, a renowned long-distance trek that winds through pristine alpine meadows, snow-capped peaks, and crystal-clear lakes. Immerse yourself in the dramatic beauty of the Eastern Sierra's High Country, where you'll discover the iconic Ansel Adams Wilderness and the dramatic peaks of the Palisades Range. Experience the magic of the Ancient Bristlecone Pine Forest, home to the world's oldest living trees, standing as silent witnesses to millennia of history. With its diverse ecosystems, from desert valleys to alpine tundra, Inyo National Forest is a gateway to extraordinary landscapes and unforgettable hiking experiences. Embark on your next adventure in this remarkable wilderness where stunning vistas, secluded trails, and the tranquility of nature await.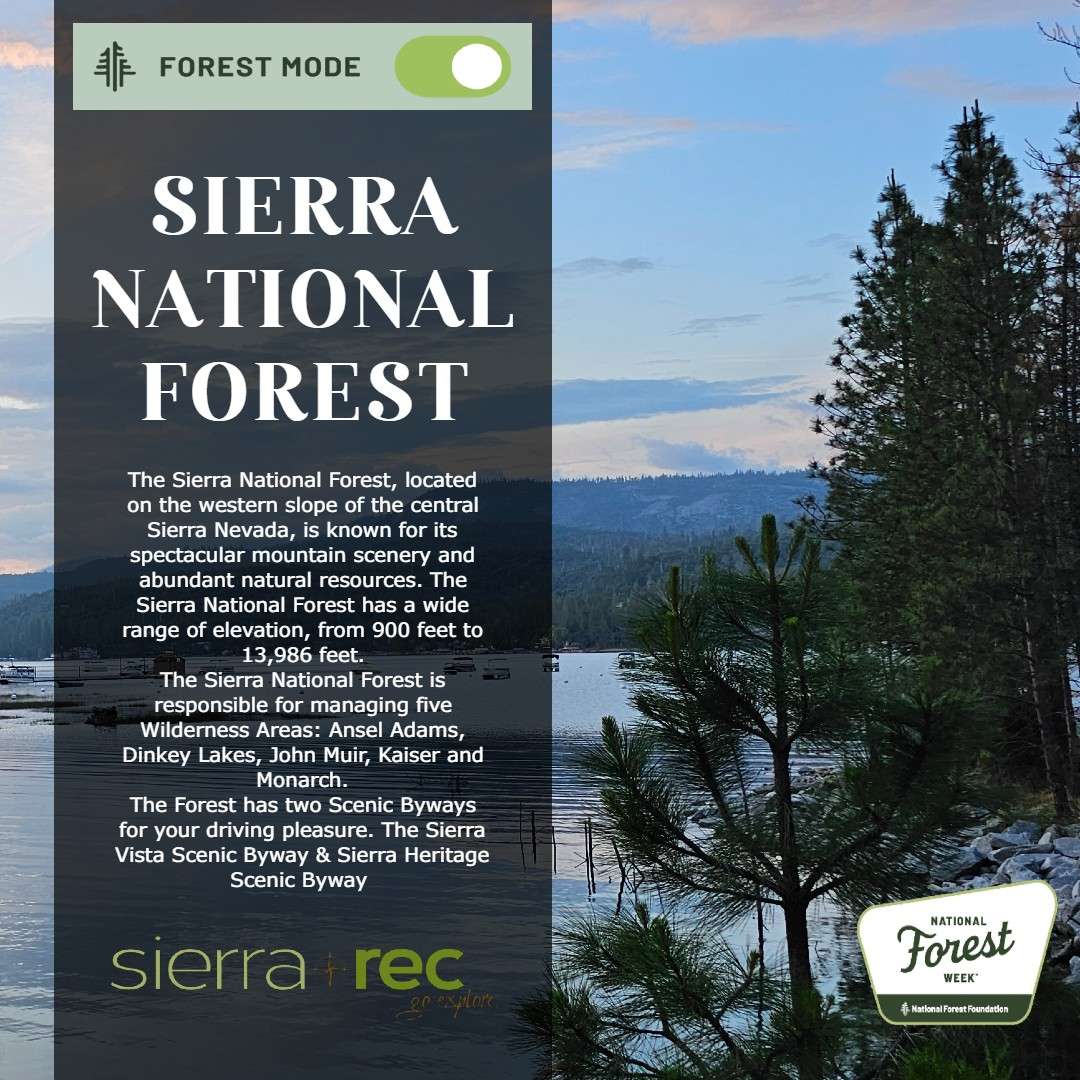 Sierra National Forest
Encompassing approximately 1.3 million acres, Sierra National Forest is a treasure trove of natural wonders. For outdoor recreation enthusiasts, the Sierra National Forest offers a wide range of activities. Hiking and backpacking opportunities abound, with an extensive network of trails that meander through picturesque meadows, tranquil lakes, and pristine wilderness areas. The renowned John Muir Trail traverses the forest, providing hikers with the chance to embark on an epic adventure through some of the most breathtaking landscapes in the Sierra Nevada. Water lovers will find their paradise in the Sierra National Forest, with numerous lakes, rivers, and streams ideal for swimming, fishing, kayaking, and rafting. The pristine waters of Bass Lake, Shaver Lake, and the San Joaquin River offer refreshing retreats during the hot summer months.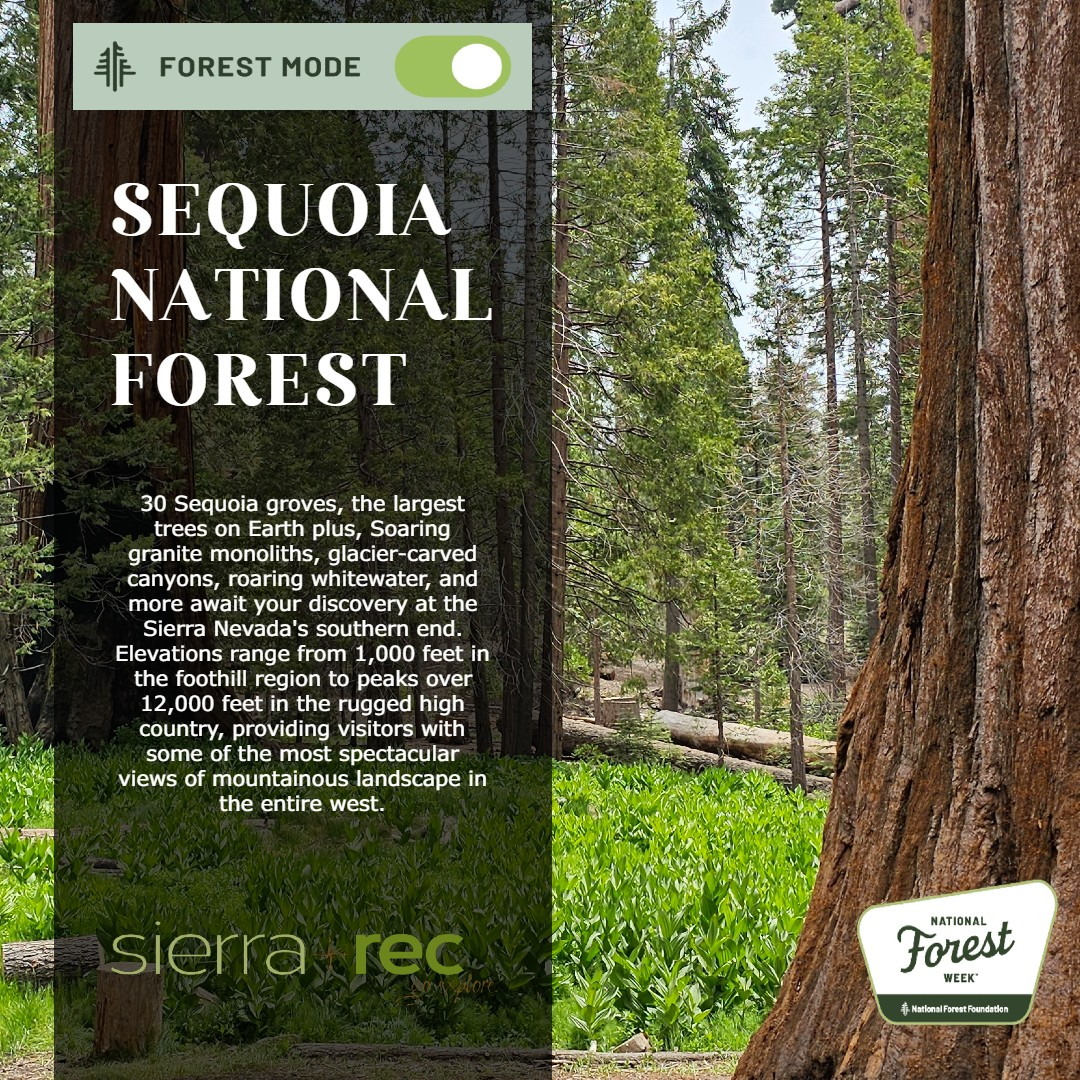 Sequoia National Forest
Covering over 1.2 million acres, Sequoia National Forest is famous for its ancient giant sequoia trees, including the iconic General Sherman Tree, the largest living tree on Earth. Explore the Giant Sequoia National Monument, home to a collection of awe-inspiring groves, and hike among these towering giants. Don't miss the dramatic landscapes of the Kings Canyon Scenic Byway, offering breathtaking vistas of rugged peaks and verdant valleys.
The Western Divide Highway and Kern River Canyon are other highlight recreational corridors of the Sequoia National Forest. visit such vistas like Dome rock or Raf the canyons with Kern river outfitters and experience the mighty Kern. Hiking and camping are robust activities on trails designed to feature the rugged travels of the original explorers.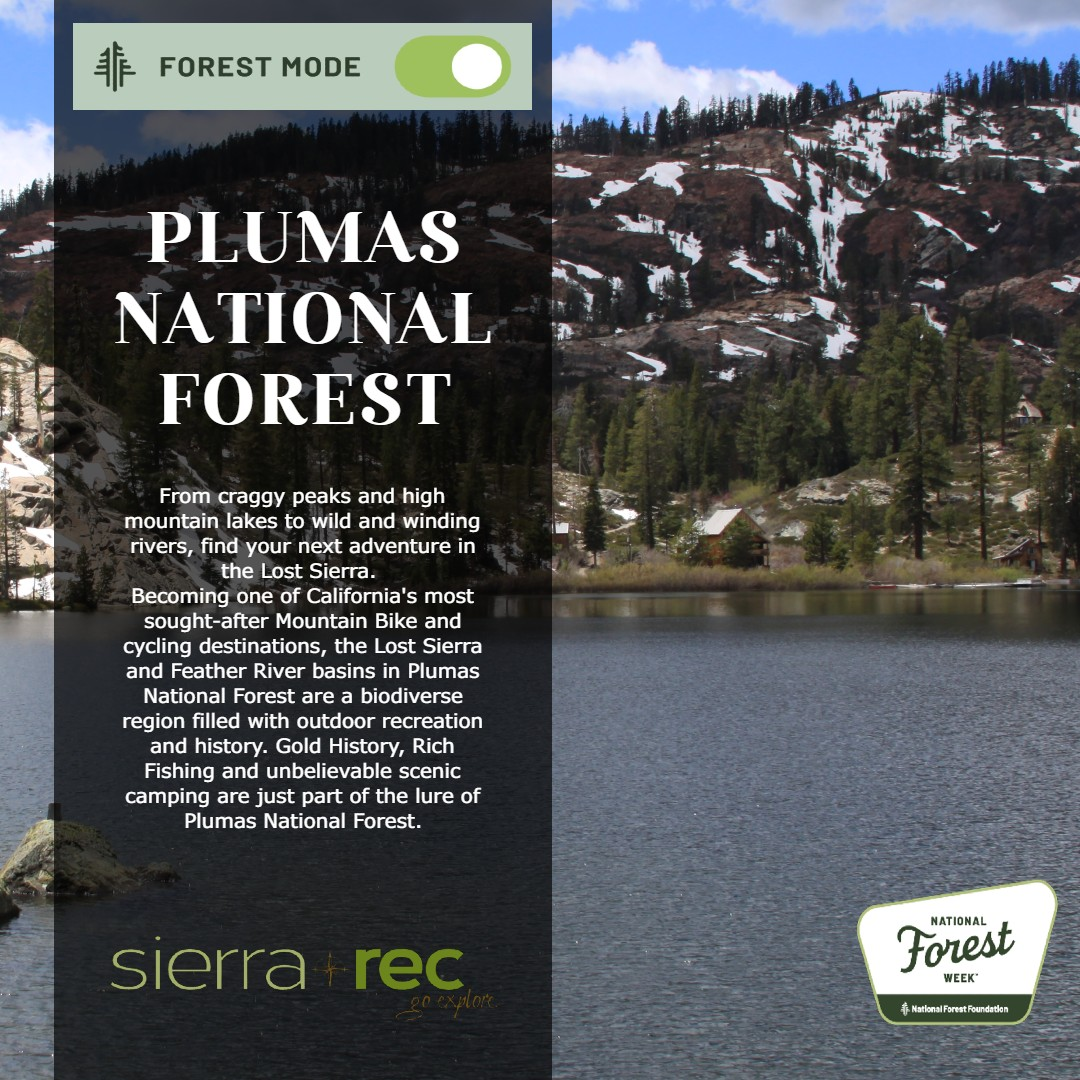 Plumas National Forest
Encompassing approximately 1.1 million acres, Plumas National Forest is a tranquil paradise in the Sierra Nevada. It is known for its stunning alpine lakes, meandering rivers, and lush forests. Visit the picturesque Feather Falls, one of California's tallest waterfalls, and embark on scenic drives through the forest, reveling in the beauty of the Sierra Nevada's landscapes. Travelers can go from the Scenic drives of the Gold Lake highway and its riches of fishing and hiking opportunities to the Trail trestles of the Feather River Canyon. The historic Johnsville skit resort and State park make a great destination for history buffs and Nestled in the heart of California, this forest offers a plethora of opportunities to immerse yourself in the beauty of nature. Set up camp in one of the many picturesque campgrounds and awaken to the crisp mountain air and serene surroundings. With over 1.1 million acres to explore, you'll find abundant fishing opportunities in the forest's 611 miles of fishable streams and 297 lakes and reservoirs. Cast your line into the sparkling waters and reel in trout, bass, and other sought-after species. Whether you prefer serene mountain streams or the tranquility of secluded lakes, Plumas National Forest is a paradise for anglers of all skill levels.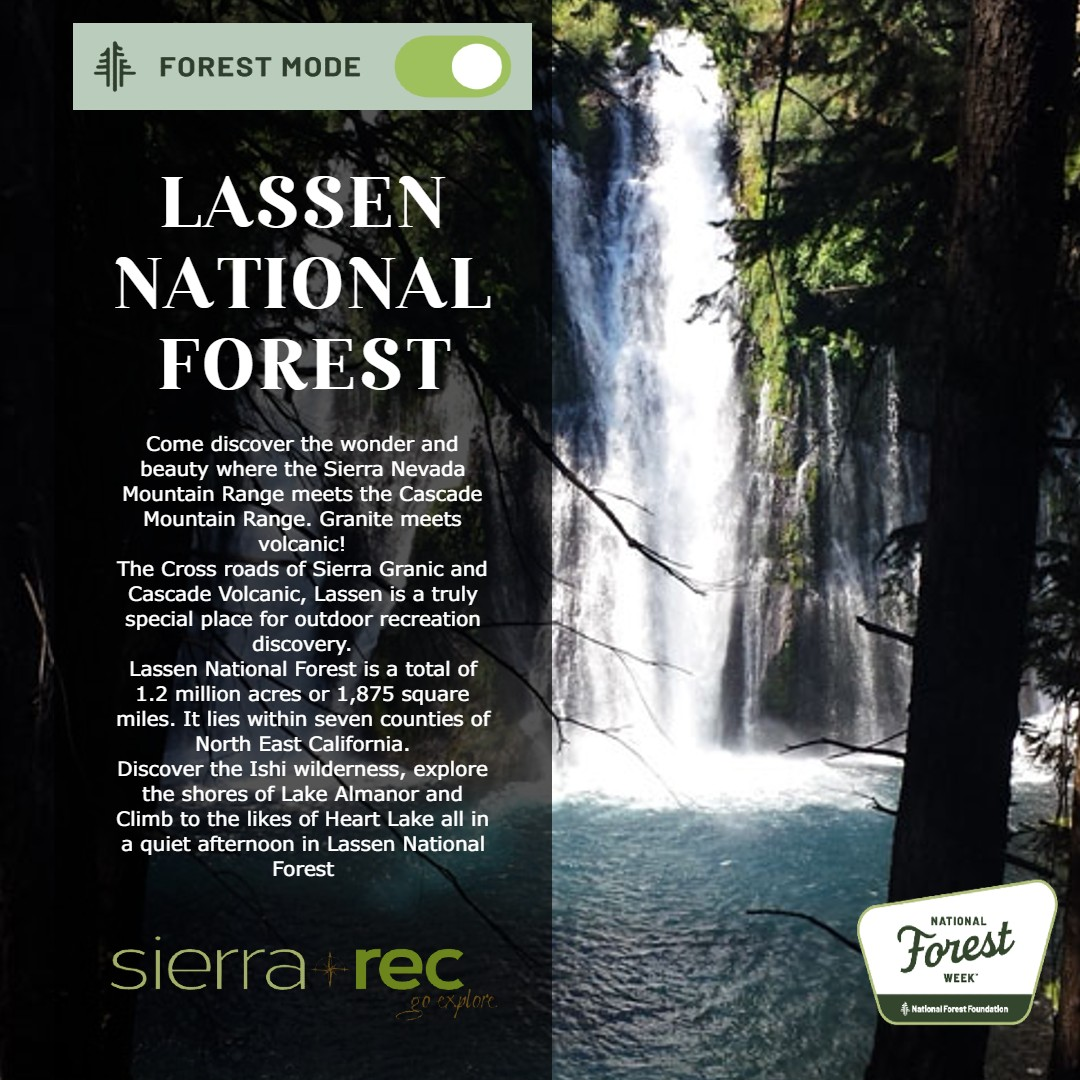 Lassen National Forest
Spanning over 1.1 million acres, Lassen National Forest captivates visitors with its volcanic landscapes and unique geothermal features. Explore Lassen Volcanic National Park, where you can witness bubbling mud pots, steaming fumaroles, and the captivating beauty of the famous Bumpass Hell. Don't miss the opportunity to hike to the summit of Lassen Peak, an active volcano, for sweeping views of the surrounding landscapes.
Located in Northern California, this forest is a haven for outdoor enthusiasts seeking an escape into untouched wilderness. Set up camp among the towering trees and immerse yourself in the peaceful ambiance of the forest. Lassen National Forest boasts a variety of camping options, from developed campgrounds with modern amenities to more secluded and primitive sites for a back-to-nature experience. When it comes to fishing, the forest's lakes, rivers, and streams are teeming with trout and other prized fish species. Cast your line into the clear waters and experience the thrill of reeling in a catch. Whether you prefer fly fishing in a secluded stream or leisurely angling from the banks of a tranquil lake, Lassen National Forest provides a wealth of opportunities for fishing enthusiasts. With its stunning natural beauty and abundant camping and fishing options, Lassen National Forest is a paradise for those seeking to immerse themselves in the great outdoors.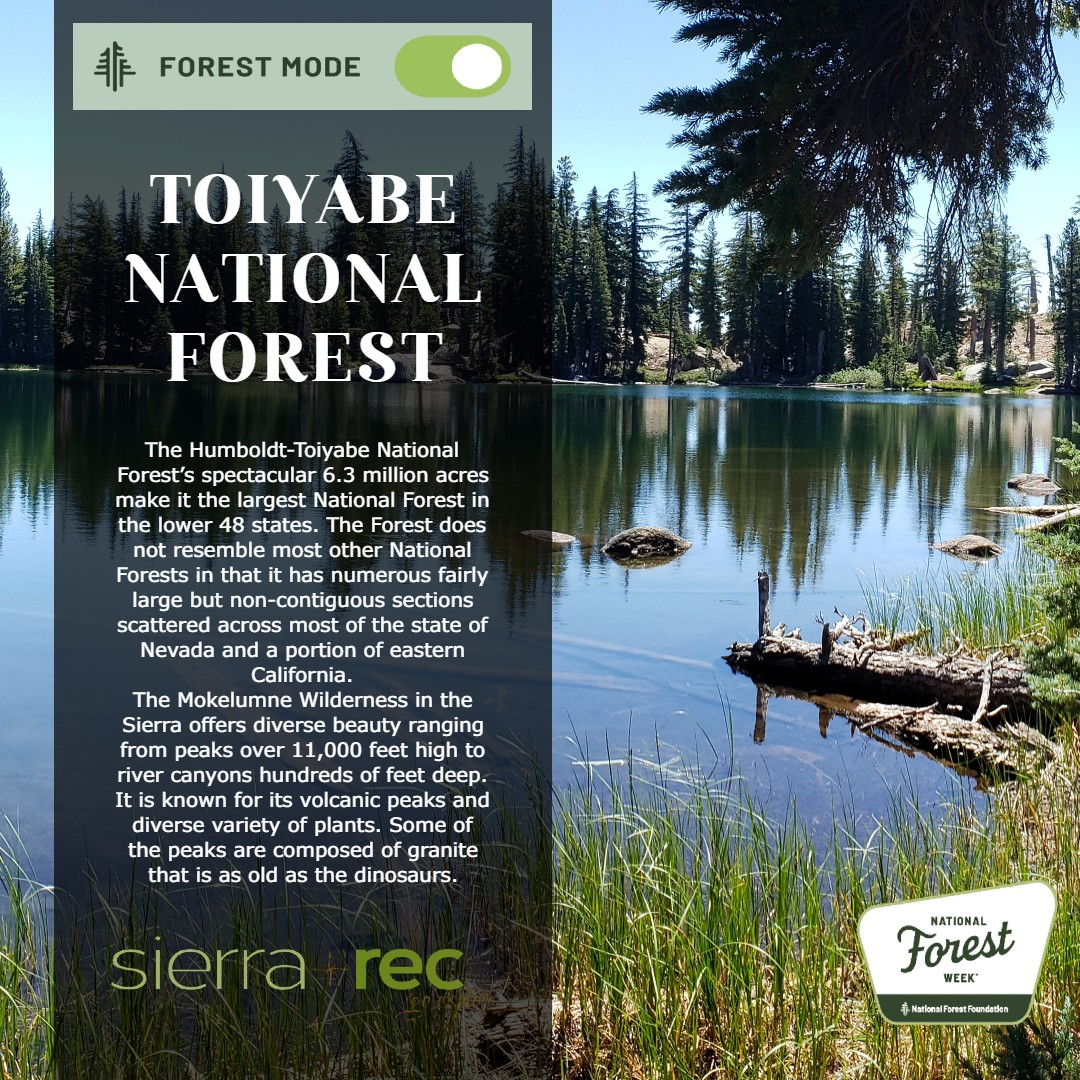 Toiyabe National Forest
Encompassing over 3 million acres, Toiyabe National Forest offers vast expanses of pristine wilderness. It is renowned for its rugged mountain ranges, high desert landscapes, and the stunning Eastern Sierra region. Embark on scenic drives along the picturesque Monitor Pass and immerse yourself in the tranquility of the Sierra Nevada's lesser-known treasures.
The two main Ranger districts on the Sierra Front at the Bridgeport and the Carson City districts: The Bridgeport Ranger District is a popular destination for hikers and backpackers looking to explore the Eastern Sierra Nevada and western Great Basin. The scenic drives and vast horizons within the Bridgeport Ranger District is spectacular, ranging from snow-capped summits to lush mountain meadows teaming with stream fishing. Points of interest include the Highway 395 corridor, Sonora Pass, Hoover Wilderness, Matterhorn Peak, the Sweetwater Mountains, Bald Peak, Mount Hicks, and Bodie Hills. 
The Carson Ranger District sits near Carson City and contains 400,000 acres of both Nevada and California wilderness. This district is best-known for its proximity to Lake Tahoe, but it also contains three wilderness areas – Carson-Iceberg Wilderness, Mokelumne Wilderness, and Mount Rose Wilderness. Popular hiking and biking trails in this area include portions of the Pacific Crest Trail, the Tahoe Rim & Flume Trail. Hikers can follow the PCT from Sonora Pass to Ebbetts Pass through the Carson-Iceberg Wilderness, explore volcanic peaks, and hang out along the shore of glassy blue lakes in the Carson Ranger District. Much of this region is marketed for is sparce density of people, meaning many come here to get away from the crowds and enjoy nature at its purest.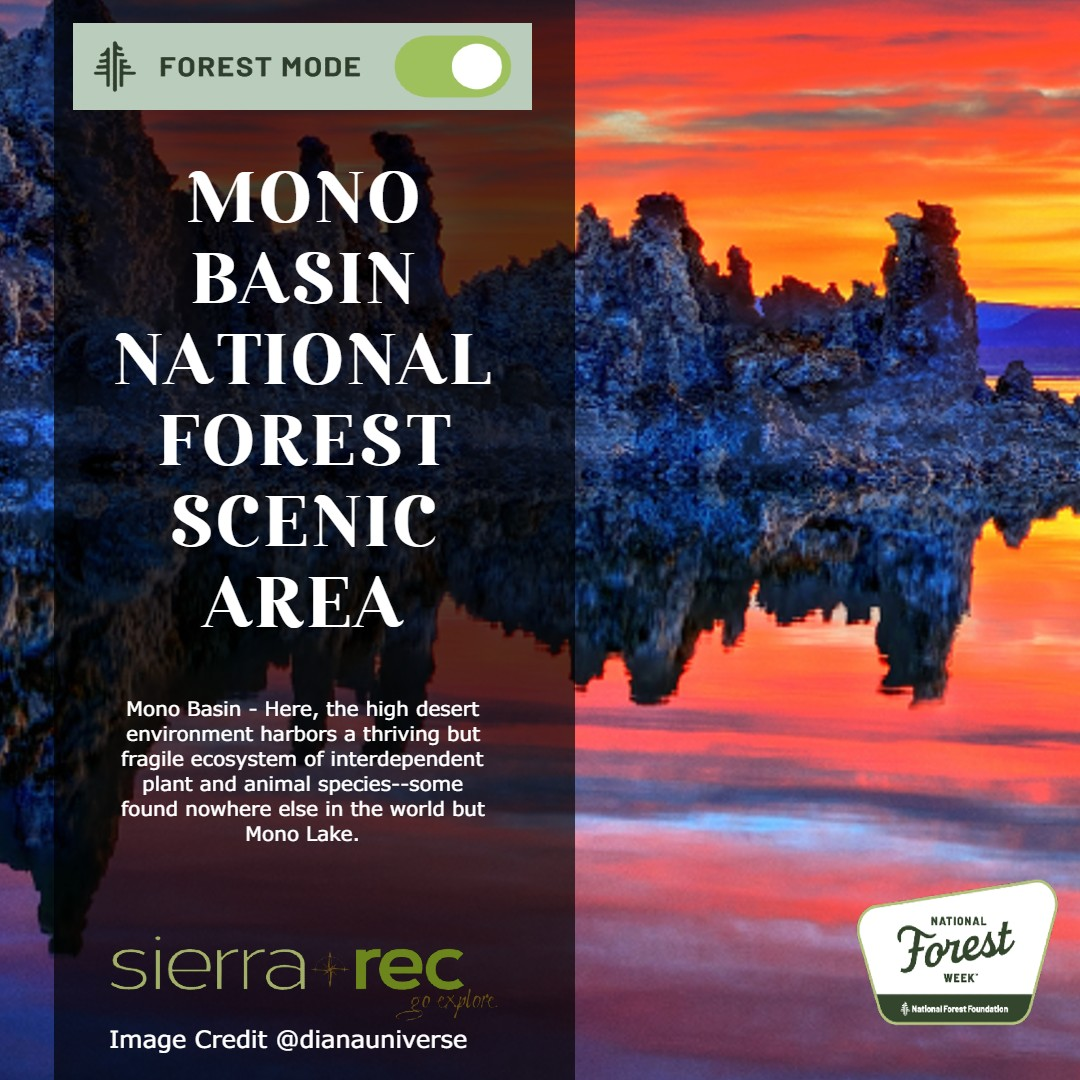 Mono Basin National Forest Scenic Area
While not a national forest itself, the Mono Basin National Forest Scenic Area is a remarkable destination within Inyo National Forest. It showcases the otherworldly beauty of Mono Lake, a saltwater oasis surrounded by ancient tufa formations. Witness the mesmerizing hues of the lake at sunrise or sunset, and explore the unique ecosystem and diverse birdlife that call this area home.
California's national forests in the Sierra Nevada region are true gems, providing opportunities for outdoor adventures, scenic beauty, and a chance to reconnect with nature. Each destination offers unique charm from the awe-inspiring peaks of Eldorado National Forest to the iconic beauty of Yosemite within Stanislaus National Forest. Embark on a journey through these remarkable national forests and let their beauty and tranquility leave an indelible mark on your soul.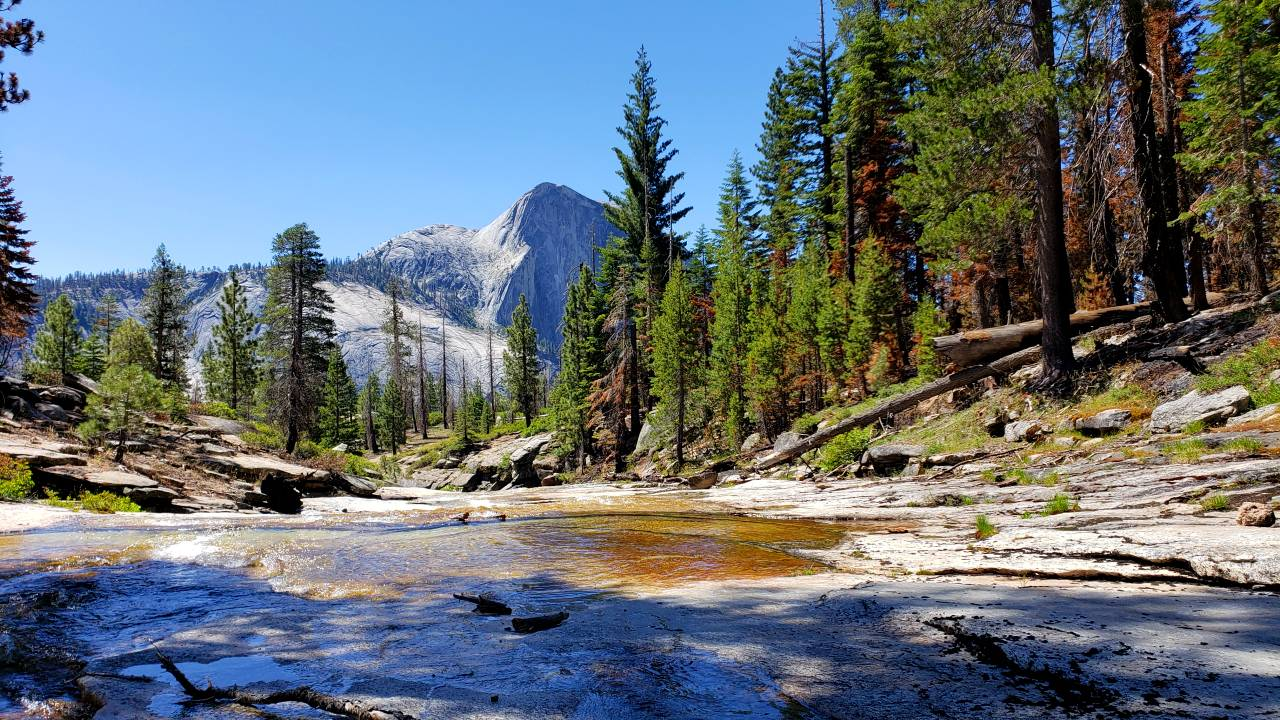 What is the difference between NPS and USFS?
The National Park Service (NPS) and the U.S. Forest Service (USFS) are two separate agencies within the United States Department of Agriculture that manage and oversee different types of public lands and resources.
National Park Service (NPS): The NPS is responsible for managing and preserving the national parks, monuments, historic sites, and other designated areas that are part of the National Park System. The primary focus of the NPS is to conserve and protect these areas for future generations while providing opportunities for public enjoyment, recreation, and education. The NPS is known for its iconic national parks such as Yellowstone, Yosemite, Grand Canyon, and Acadia.
Key Features of the NPS:
Conservation and preservation of natural and cultural resources.
Emphasis on protecting unique ecosystems, landscapes, and historical sites.
Focus on providing recreational opportunities, interpretive programs, and visitor services.
Mission includes balancing preservation with public access and enjoyment.
U.S. Forest Service (USFS): The USFS is responsible for managing and overseeing the national forests and grasslands throughout the United States. These lands are typically vast, forested areas that are open to various uses, including timber harvesting, grazing, recreation, and conservation. The primary goal of the USFS is to sustain the health, diversity, and pr