Welcome to Sierra Valley: Your Gateway to Nature's Majesty
Discover the awe-inspiring beauty of Sierra Valley, nestled near Loyaton, California. Immerse yourself in breathtaking landscapes, diverse wildlife, and a tapestry of outdoor adventures. Whether you seek peaceful hikes, thrilling trails, or captivating events, Sierra Valley offers an unforgettable experience for nature enthusiasts and adventurers alike.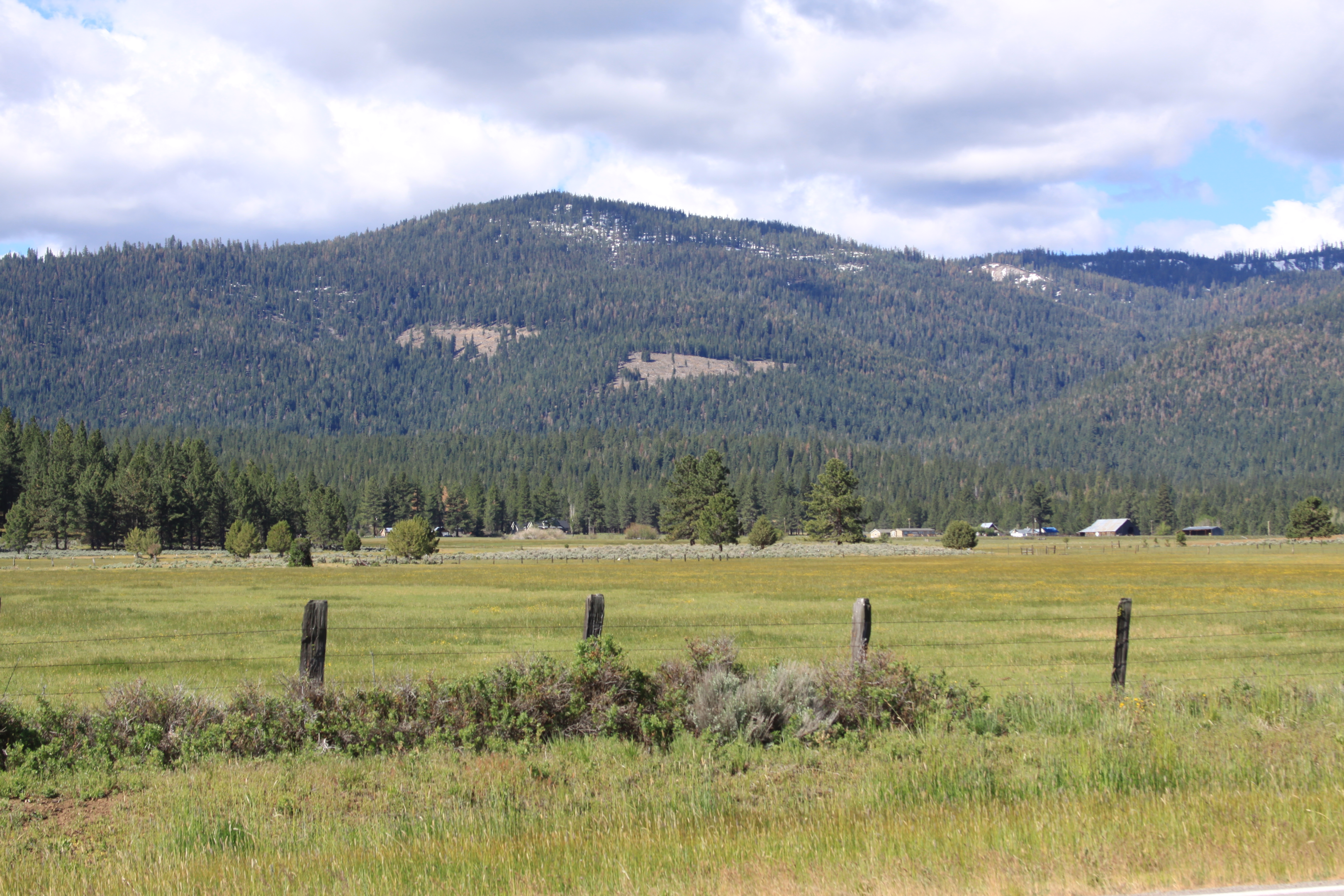 The vast Sierra Valley is one of North America's largest alpine valleys. The valley sits at the confluence of three ecoregions: The Northern Sierra Nevada, the Southern Cascade, and the Great Basin. Located a short 45-minute drive North of Reno, NV, Sierra Valley is part of the continental crust that was dropped by the same fault that raised the Sierra Nevada. At one point in time, it is believed to be the home of Bechworth Lake and larger than Lake Tahoe in size.
Sierra Valley is nonetheless spectacular today. Along with great road cycling and visiting generational ranches and farms during the Sierra Valley Art & Ag Trail, the valley hosts the greatest diversity of birds in the entire Sierra Nevada — more than 230 species — and is a key stopover on the Pacific Flyway north-south migration route. A popular stopover for humans is the Sierra Hot Springs Resort and Retreat Center just outside Sierraville. At the "top" of the valley, the annual Vinton Cowboy Poetry & Music Show is an event you don't want to miss.
Sierra Valley Trails & Bike Routes
Explore Majestic Trails or enjoy the scenic rides of Sierra Valley cycle routes: Embark on a journey through Sierra Valley's enchanting trails, each offering a unique perspective of its natural wonders. Part of the Connected Communities' district of trails single track trails can be located all around the valley, helping riders connect to various communities in the Lost Sierra.
If Cycling is more your speed, the Sierra Valley region network of roads which circle the valley and dissect the Sierra in various directions provide a network of opportunities for lake, valley and mountain adventure rides. Check out the route from Lake Davis to Sierraville for an epic road course.
Sierra Valley Preserve Trail: Delight in a pristine and unspoiled wilderness as you meander through this picturesque trail. Discover a mosaic of wetlands, lush meadows, and snow-capped peaks. Keep an eye out for vibrant wildflowers and a myriad of bird species.
Long Valley Nature Trail: Immerse yourself in the tranquility of this easy-to-moderate trail. Traverse through towering pines and aspens while relishing the serenity of a shimmering alpine lake. Nature photographers will find ample opportunities to capture stunning vistas along the way.
Beckwourth Peak Trail: Challenge yourself with a hike to the summit of Beckwourth Peak. Ascend through diverse ecosystems, including forests and rocky slopes, and be rewarded with panoramic views of the entire Sierra Valley. This trail promises an invigorating experience for seasoned hikers.
Enchanting Sights and Events:
Sierra Valley is not only a haven for outdoor enthusiasts but also a place where captivating events celebrate the region's rich culture and natural heritage. Plan your trip around these special occasions for an immersive experience:
Sierra Valley Art & Ag Trail: Join us for an extraordinary journey combining art and agriculture. Visit working farms and ranches, engage with local artists, and witness firsthand the creative spirit inspired by the valley's abundant beauty.
Sierra Valley Barn Quilt Trail: Marvel at the vibrant colors and intricate designs adorning barns along this unique trail. Discover the stories behind each quilt, showcasing the cultural heritage and artistic talent of the region.
Sierra Valley Farms Market: Indulge your senses at the lively farmers market where local growers offer a cornucopia of fresh produce, homemade delicacies, and artisanal crafts. Experience the flavors of Sierra Valley while supporting the community.
Sierra Valley Summerfest: Celebrate the season with this vibrant festival featuring live music, delicious food, and entertaining activities for the whole family. Engage in traditional games, explore local vendors, and revel in the cheerful ambiance.
Plan Your Adventure Today: Unleash your inner explorer and plan your unforgettable journey to Sierra Valley. Whether you seek solace in nature's embrace, challenge yourself with thrilling hikes, or immerse yourself in the region's cultural events, Sierra Valley promises a remarkable experience.
Start your adventure now by exploring our trail maps, event calendar, and local recommendations. Allow the captivating beauty of Sierra Valley to captivate your heart and leave you with cherished memories that will last a lifetime.
How to Get to the Sierra Valley Preserve
Just south of the town of Beckwourth lies the only place in the wide expanse of Sierra Valley that is publicly accessible—FRLT's Sierra Valley Preserve. Visitors to the 2,586-acre Preserve at the headwaters of the Wild and Scenic Middle Fork Feather River can already enjoy 360-degree views, nearly 3 miles of interpretive trails, and incredible birding from the wetland-edge wildlife viewing platform.
The preserve's 2,586 acres have a rich variety of habitats including montane meadows, dynamic wetland channels, and upland areas of sagebrush scrub, ancient dunes and spring wildflowers.
The Preserve is a key stopover on the Pacific Flyway. Its seasonal and perennial wetlands provide migratory and breeding habitat for sensitive species such as Greater Sandhill Cranes, Black Tern, Redhead, White-faced Ibis, and 200+ pairs of Yellow-headed Blackbirds.
Entrance from the west is through Yuba Pass on State Route 49. Entrance from the east is through Beckwourth Pass, the lowest mountain pass on the crest of the Sierra Nevada, on State Route 70. State Route 89 skirts the southern end of the valley. State Route 49, the Gold Rush trail, terminates at State Route 70 in Vinton, and the latter highway then terminates at Hallelujah Junction on U.S. Route 395 after passing through Chilcoot.
Bird Watching
Most places in the valley can be reached with a car, but the absolute best way to view wildlife is in a canoe or kayak, traversing the headwaters of the Feather River.
The adjacent Carman Valley north of Calpine has 30 to 40 acres of vernal habitat during spring and early summer. This area is an excellent place to view nesting waterfowl, including wood ducks and shorebirds. Carmen Valley had been de-watered by an old railroad grade, and its present condition is due to a forest service restoration.
The Steel Bridge, located over the headwaters of the Feather River on Marble Hot Springs Road off county road A-23, provides an opportunity to view Canadian geese, great blue heron, sandhill cranes, numerous ducks, and songbirds. This is private property, so please do not explore on foot.
The Smithneck Creek area off Smithneck Road travels through extensive aspen groves with scenes of beaver activity—dams, stick lodges, and beaver-logged timber. It continues on through Antelope Valley, which is an excellent place to observe deer fawning. If you see a lone fawn, please don't touch it. Its mother is nearby. The Sierra Valley has more German brown trout, mile for mile, than anywhere else in California. Smithneck Creek is a favorite among fishermen seeking this elusive trout. This area is also home to Nevada mule deer, grouse, chucker, and California mountain quail.
Jackson Meadows Reservoir entertains broods of Canada geese, mergansers, mallards, and green-winged teal. Several meadows offer good evening views of mule deer and bald eagles visit in the late fall. Black bears, foxes, and raccoons are also present, but not so visible.
Kyburz Marsh off Hwy 89, 10 miles north of Truckee, is approximately 200 acres and provides
wildlife viewing for waterfowl, shorebirds, songbirds, numerous species of hawks, osprey, and bald eagles. Several waterfowl nesting islands are located within the area. In the wintertime, visit on your cross-country skis for a true natural experience.
Principal towns
Things to do:
Cultural Attractions:
Museums: The Loyalton Museum is located in Loyalton at the city park. This historic building features displays on logging, agriculture, the Washoe Indians, and fraternal organizations including the Rebekah Lodge. Outdoor exhibits include logging wagons, a donkey engine, and farm equipment. The train museum in Portola, California, just north of the Sierra Valley, is a must for train enthusiasts, as are the tracks that cross the feather river in Clio

Historic Sites: Numerous historic barns and farm houses throughout Sierra Valley date back to the 19th century. Many are still in use. Sierra Valley has several barns that are celebrated on the Ouilt Barn tour in Plumas County and the Feather river basin. The brick building by the gas station in Loyalton was built around the turn of the 20th century. This building, along with the old grocery store in Sierraville, are two of the few remaining buildings constructed of Sierra Valley brick. The Sierra Valley Lodge in Calpine, was built as a recreation hall for the once-thriving mill town. Today it is a restaurant and cocktail lounge with lodging accommodations.
On the Trail
Hiking: Trails in the Sierra Valley area range from easy walks to rigorous climbs through thick conifer forests. The Cottonwood Overlook Trail is light to moderately difficult and provides panoramic views of the valley in several places along the trail.The Cottonwood Creek Botanical Trailuses trail markers and a corresponding brochure to identify and describe trees and other plants on this easy walk. Located just south of Sierraville in the Tahoe National Forest.
Dedicated hikers can climb the steep Badenaugh Trail up to the Babbit Peak Lookout for an outstanding panoramic view of the local area of eastern California and western Nevada. Mountain bikers and equestrians share this trail with hikers.
The Jackson Meadows Reservoir area features the Woodcamp Creek Interpretive Trail, which provides an educational and moderately difficult hike with 18 points of interest spelled out in a brochure.
The Pacific Crest Trail can be accessed from the Jackson Meadow trail head. The Kyburz Flat interpretive area on Henness Pass Road east of Highway 89 explains the history of three different peoples who inhabited this beautiful mountain meadow starting 2,000 years ago. Maps and brochures are available free of charge.

OHV Trails: The Bear Valley Loop OHV Trail near Loyalton is 18 miles of pure exhilaration and scenic beauty. The trail is open late spring to fall.
Nearby Local Favorites:
While traveling to or near the Sierra Valley, here are a few nearby adventure favorites:
Lake Davis
Frenchman Lake
Gold Lakes Highway and Sierra Buttes
The Brewers Lair
Town of Graeagle
Burger and shakes at the Chilcoot Frosty
Johnsville State Park
Whitehawk Ranch Golf Club
Grizzly Ranch Golf Course
Sierraville Hot Springs – (reservations required, Clothing optional)