2023 Permit rolling Lottery Open.
Sequoia and Kings Canyon National Park – December 7. 2022 – The 2023 backpacking season for Sequoia and Kings Canyon National Park is upon us. Recreation.gov has officially begun accepting trip itineraries for backpackers looking to travel in the early season in one of the largest wilderness areas in North America. Permits for Sequoia and Kings Canyon can be reserved through a lottery system 6 month plus one week in advance. So at this time we are looking at May 2023 Backpacking opportunities.

The parks overlie an extraordinary continuum of ecosystems arrayed along the greatest vertical relief (1,370 to 14,505 feet in elevation) of any protected area in the lower 48 states. Stunning glacial canyons, lake basins, lush meadows, and sheer granite peaks–hallmarks of the most rugged portion of the High Sierra–form the core of the largest expanse of contiguous wilderness in California.
Well-known destinations such as Mount Whitney and popular itineraries such as the John Muir Trail, Pacific Crest Trail, High Sierra Trail, and Rae Lakes Loop are heavily traveled and there is high demand for limited entry. The lake basins near Lodgepole and Mineral King are busy on weekends but can be quiet mid-week. Lesser-known destinations such as the Monarch Divide, Roaring River country, eastern slopes of the Great Western Divide, and the Hockett Plateau can offer outstanding opportunities for solitude throughout the year.
Do you need a permit to backpack in Kings Canyon?
Wilderness permitsmust be purchased for all overnight camping outside designated campgrounds within Sequoia and King Canyon parks. Backcountry camping fees start from May through Sept. 15. Permission is not necessary on day hikes.
Permit & Season Information
The Sequoia and Kings Canyon reservation is for a quota season permit for overnight travel of wilderness and backcountry areas (SEKI). Permits issued by SEKI are valid for continuous wilderness and backcountry travel in the Sequoia, Sierra, and Inyo National Forests (NF) and Yosemite National Park, subject to those agencies' conditions.
To enter SEKI from the Jennie Lake Wilderness obtain a permit for the JO Pass, Belle Canyon, or Sugarloaf entry points; to enter from the Deer Cove area of the Monarch Wilderness , obtain a SEKI permit for the Lewis Creek entry point. 
To enter SEKI from the Inyo NF , Sierra NF , Golden Trout portion of the Sequoia NF , or Yosemite NP obtain permits from those agencies; those permits are valid for continuous travel in SEKI.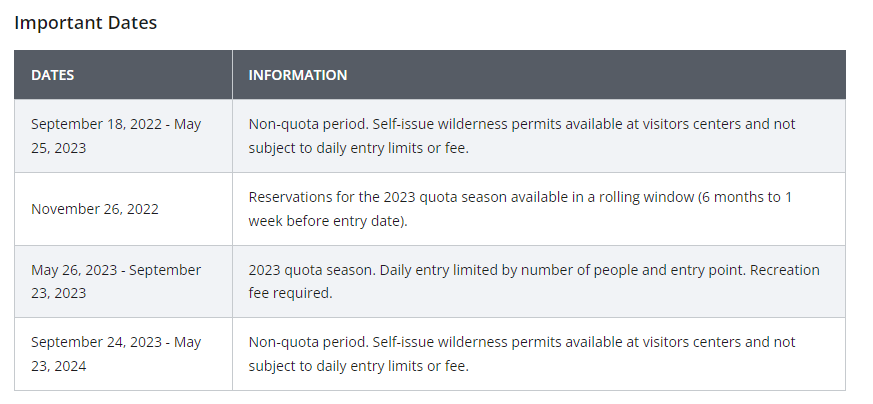 A few Epic Backpacking routes to Consider when planning for Sequoia
Alta Peak to Alta Meadow
Why go: Take a short hike to the highest point of Sierra Nevada and camp on the lush alpine meadow with abundant wildflowers with stunning views of the Grand Western Divide. Alta Peak was my first significant summit – the mountain where I became a keen outdoors person. Situated at an 11207-foot elevation, the mountain is low enough to reach most hikers and high enough to pose challenges. The views from Pea Lake, Mount Silliman, and the Western Divide are simply amazing. Place the car in Wolverton, then follow the lake route. Around two miles in you arrive at the signposted intersection and proceed toward Alta Peak.
Middle Fork to Redwood Meadow
What are your best reasons for going? The 2-day low elevation trekking at Sequoia National Park offers camping in the groves of enormous Sequoia trees. It is perfect for those early seasons when the mountains are still covered, but the excitement is high. The Middle Fork Trail is ideal for hiking due to the chilly weather in the spring and autumn. Embrace the dirt road that's nearly 1.3 miles up the main Sequoia Highway and park at the end. Put excess snacks inside your car bag and wear shoes. Panther Creek Falls, fishing in the Middle Fork of the Kaweah River for those who don't mind bush-whacking, wildflowers in the spring, views up the river drainage to the Great Western Divide, access to Redwood Meadow (one of the most remote sequoia groves in the park).
Rae Lakes Loop
This 4-5 day loop takes you through mountains and valleys to enjoy breathtaking views on this spectacular hike. Rae Lake Loop has the toughest permit-obtaining process in Sequoia & Kings National Park. What's wrong with that? Almost all the trails are filled with breathtaking Sierra landscapes. This trail offers everything from the gnarred wood foxtails to the massive granite peak and the beautiful alpine lakes filled with fresh snow. Start your walk at the Road end and go clockwise. The Rae Lakes Loop is one of the most popular hikes in Sequoia and Kings Canyon, if not in the entire Sierra. The loop is 41.4 miles long, and climbs from 5035′ (1535m) at the trailhead to 11,978′ (3651m) at Glen Pass. It is most often accessed via the Wood's Creek trailhead (clockwise) or the Bubb's Creek trailhead (counter clockwise). High water at stream crossings can be a problem in May and early June. Glen Pass may be impassable to hikers until mid-late July and even later for stock. Because this is such a popular hike, there are certain restrictions along this trail:
High Sierra Trail – Crescent Meadow to Whitney Portal
Why it's worth going: Cross Sierra Nevada, and then triumph over Mt. Whitney. It's absolutely breathtaking. It is easily one of the best trails the Sierra offers, an alpine romp over high mountain passes, through verdant meadows, past a remote hot spring, and up to the summit of Mt. Whitney, the highest point in the Continental Divide. This 7-day trip is one of the most extensive elevation adventures available in the United States. early season may be a bit of a challenge and the permit process is a bit more complicated. Looking for a great review of this entire route, check out the Modern Hiker Review
Hamilton Lake
Why should we go on these magical two-night walks into the center of the Western Divide? Hamilton Lake has a reputation for being a stunning sapphire gem that has a high elevation barrier that keeps many hikers out. The trek itself is full of true Sierra beauty in all of its forms. Massive waterfalls, rushing streams, colossal cliff faces, and old-growth forests greet you along the 15-mile journey as you climb. There is an incredibly tough road to go on, but trust me, it works out perfectly. Taking a hike from Crescent Meadow to the high Sierra trail follows its well-marked up and it's well-marked out of Bearpaw Meadow. From Bear paw meadow the hike is nothing short of exhausting as it follows a set of steep switchbacks up to the top of the great western divide. For more detailed trip take a look at Outdoor Project review
Don't forget the Bear Canister
The bear-resistant container must remain on the trail during the day unless the bear can be seen overnight and should be used anywhere else throughout Sequoia National Park. Bear cans can be bought at most visitor centers at the time of the permit application ($5 per night and $2.2 per extra night). The fee is $5. These heavy containers are cumbersome and seem like a nuisance, and they keep bears from eating human food. If a bear gets used to the high-calorie food we consume every day, it can quickly become an issue bear. The new Bear canisters from bear vault allow for customizing your trips safely.
Notable changes of the Recreation.gov transition
No mail, email, or fax reservation requests will be accepted.
The reservation window can be as early as 6 months in advance to one week prior to your desired start date.
Real-time reservation availability can be checked on Recreation.gov.
An instant reservation confirmation will be emailed to you.
You can list up to 3 alternate trip leaders.
There's a limit of six active permits at any given time.
The reservation fee base price has increased from $10 to $15, but the per-person fee will stay at $5.
Integrated payment options allow the ability to pay entry fees and/or make campground reservations at the same time you make a permit reservation. Please look for more information on the recreation.gov website.
Refunds for cancellations and party size reductions (>1 week).
Ability to modify your exit date and itinerary locations through Recreation.gov.
Email communications about trail closures, advisories and important information through Recreation.gov.