Popular summer destinations off HWY 395 take on a cool vibe during winter in Eastern Sierra, where there's much more to the snowy season than world-class skiing and adventurous snow sports. Enjoy a road trip to see favorite destinations that bustle with activity in the summertime transformed into quiet, peaceful winter wonderlands.
As the Eastern Sierra lakes freeze and everything is slowly buried in snow, familiar places are sometimes almost unrecognizable. Snow blankets and brightens the mountain landscape and incredible ice patterns form on frozen lakes and rivers. Between storms the snowbird blue skies reveal a visual paradise as the mountains tower above the valley floor and temperatures hover around the low 40's in mid afternoon giving explorers a lovely winter experience.
Make the most of your road trip by planning accordingly for snowy weather so you can focus on having fun. Carry chains and a winter weather kit in your vehicle to remove snow, stay warm and have plenty of extra food and water. And, of course, always plan your trip around clear weather and driving conditions.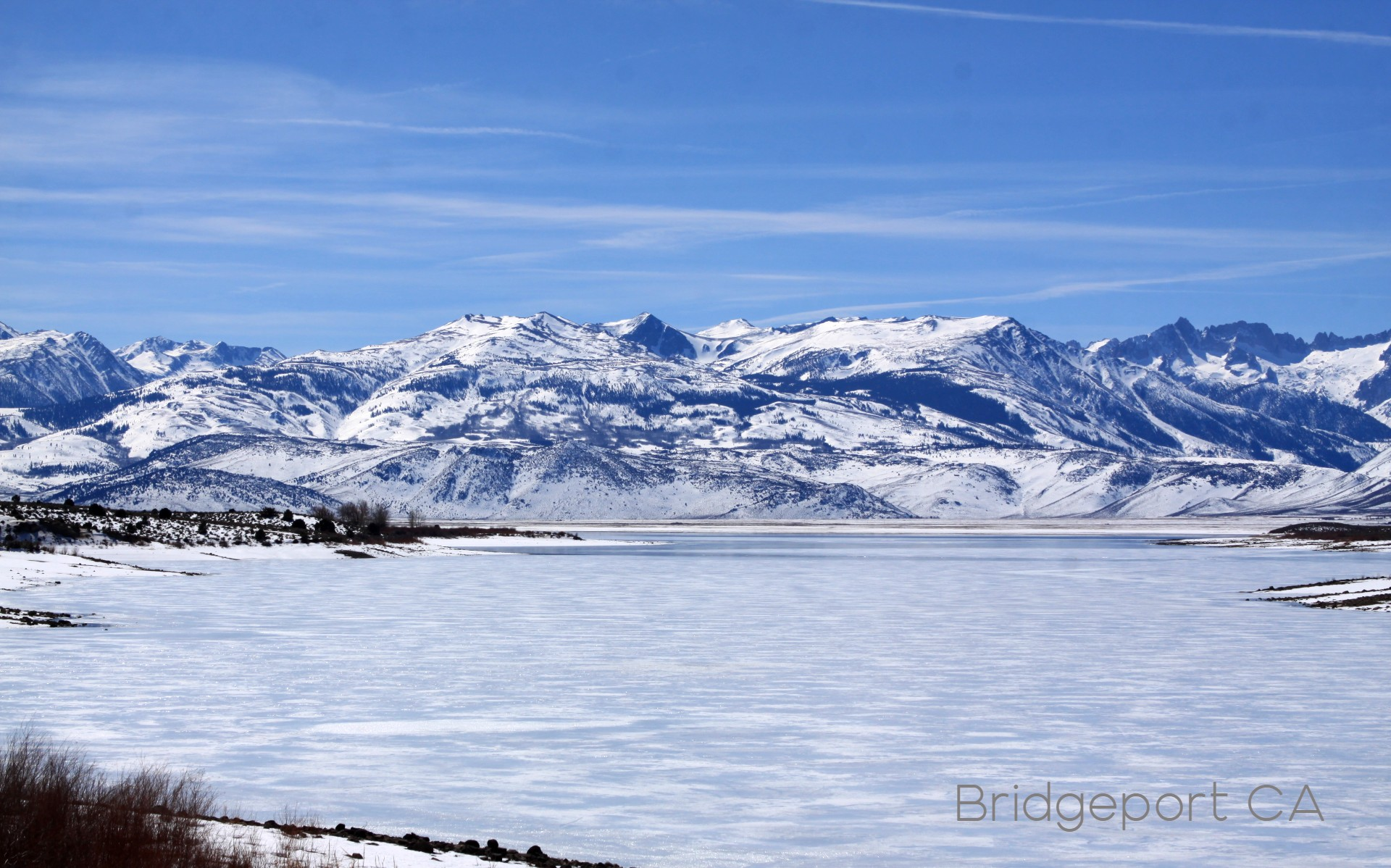 Winter Sightseeing Destinations of the Eastern Sierra

Fossil Falls offers a unique volcanic landscape. The short Fossil Falls Trail will lead you through the smooth, polished remnants of a 20,000-year-old lava flow and is an excellent location to stretch your legs on a long road trip. The flow itself is a popular destination for rappelers and rock climbers. Fossil Falls Campground is located in along California Highway 365 at the base of the eastern Sierra Nevada mountains.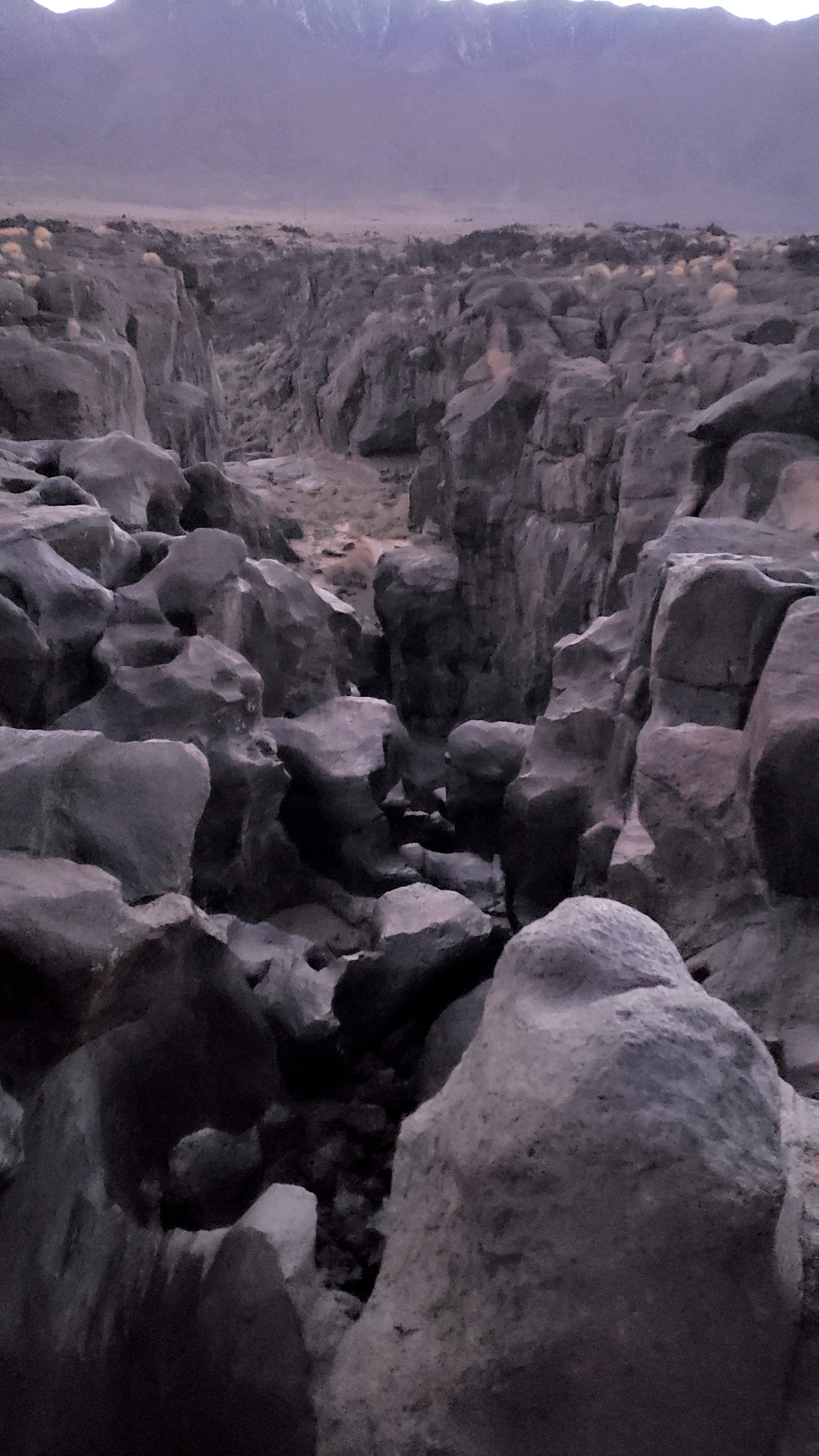 Fossil Falls Campground contains 11 first-come-first-serve campsites with drinking water, restroom, tables and fire rings. RV sites are available and well-suited for medium-sized RVs.
Located at the south end of the Owens Valley, Olancha Dunes OHV Recreation Area offers a diverse landscape for off-highway vehicle recreation. It is characterized by wide, rolling dunes framed between the towering Sierra Nevada and the Coso Range.
The riding area is about 1,000 acres of short, gentle sloped dunes that peak at a height of 75 ft. Most area visitors ride motorcycles or ATV/UTVs, or tour the area in four-wheel drive vehicles.
STAGING AND CAMPING AREAS: The entire OHV area and surrounding public lands are open to primitive camping. Within the dune area, there are a number of excellent primitive camping sites and OHV staging/off-loading areas.
A scenic drive north on US-6 leads to Benton, a once-thriving silver and gold-mining town nestled below the snowcapped White Mountains. Stroll through the past on a self-guided walking tour including the cemetery, or head off-road to explore Red Rock Canyon and hunt for petroglyphs.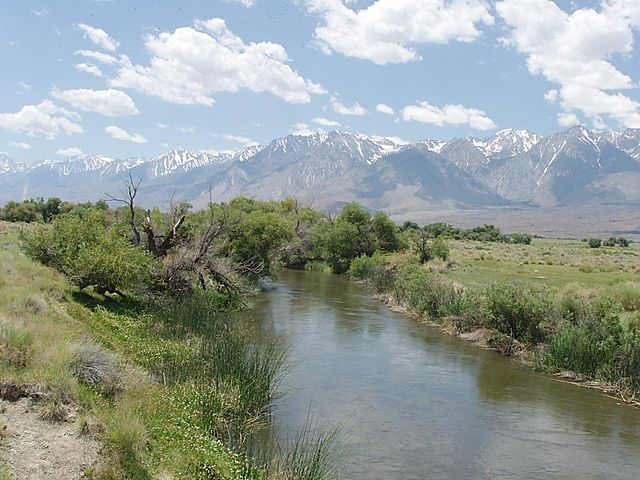 A popular place to fly-fish, Owens River offers views of the Sierra Nevada, including Mammoth Mountain and the incredible Minarets. The Owens River runs through the Long Valley Caldera; walk the area capturing images of bald and golden eagles, blue herons, mule deer and sage grouse.
Snow or shine, the road to Convict Lake stays open year-round, bringing visitors unparalleled scenery from one of the most beautiful and dramatic lakes in the area, which was given its name after an 1871 shoot-out at this very location.
–The valley is bathed in sunshine an average of 335 days a year and the average daily highs in winter, between 50-60 degrees, keep the sidewalks and streets clear of slippery snow and ice. The winter air is crisp and exceptionally clear and the snow-covered mountains that rise dramatically above this charming western town are a magnificent sight to behold. Bishop is well known as a world-class seasonal fly-fishing destination. It is also a magnificent winter fishing region. Fly, bait, and lure fishing are legal all year long in the Lower Owens River from Pleasant Valley Reservoir all the way to Big Pine. There are miles of canals, protected ponds, and large reservoirs, some offering handicapped-accessible fishing piers, that are easily accessible by car. The rivers and reservoirs are regularly stocked with trout by the California Department of Fish and Wildlife. The warmer waters of the protected Owens Valley Warm Water Fisheries yield catches of bass, bluegill, carp, and even catfish. All California fishing regulations must be followed and a fishing license is required year-round.
Ice Skating June Lake or Mammoth Lakes
Traditional rink ice skating is spectacular in Mammoth at the new LA Kings Ice at Mammoth Lakes Recreational center. But hardcore outdoor Ice enthusiasts call June Lake one of the special outdoor ice skating experiences in the world. YouTube is filled with recreational Ice skating videos of the unique experience on June Lake. While skating on frozen lakes and ponds in the Eastern Sierra can be spectacular, safety should always be the first priority – please use extreme caution. June Lake in the winter is about the snow, beauty and serenity of the June Lake Loop. It is a place for families, less expensive than other mountain resorts. Top activities in the winter are skiing and snowboarding, ice climbing, cross country treks, snowmobiling, and shopping in the June Lake Loop.
Soak up the beautiful frosty scenery and capture images of a waterfall and waterfowl around picturesque Twin Lakes, where evergreens frame Crystal Crag and the Mammoth Crest.
Mono Lake
The tufa towers at Mono Lake are stunning natural wonders not-to-be-missed. Be sure you are camera-ready to shoot the mineral towers and spires, which are created when freshwater springs bubble through the alkaline water.
The Black Point Fissures of Mono Lake are also stunning during the winter season. As the Fissures fill with snow and the hike to the fissure is more relaxed with snow-capped mountain scenery, this family day trip is a great winter treasure hunt.
Conway Summit
Visit this popular pull-out parking area to see and photograph panoramic views of Mono Lake from the vista, which also marks the highest point on U.S. Highway 395.
The iconic Big Meadow is known for its greenery during the summer. In the wintertime, it's barren with snowcapped mountains in the background. The scenery provides a different perspective of the towering Sawtooth mountain range. Travertine Hot Springs lies on California State Park land just south of the town of Bridgeport. It is one of the easiest to get to, many locals trek the snow also to Buckeye Hot Spring an absolutely amazing hot spring. Hot water comes over the rocks into a little pool and mixes with the cold river water.
Winter Fishing on the East Walker River is a popular choice for visitors and locals alike. The "Miracle Mile section just North of the Bridgeport Lake Dam is often a popular place to fish during winter,
Bodie State Historic Park stays open year-round and in low-snow years, the road to Bodie (State Route 270) may be open. The abandoned streets and buildings of the ghost town are particularly haunting in the quiet, chilly winter months. Please check with Caltrans to find out if the road is open. There is something special about the rugged nature of Bodie in the snow as you soon realize the hardships miners faced on the Eastern Sierra Front.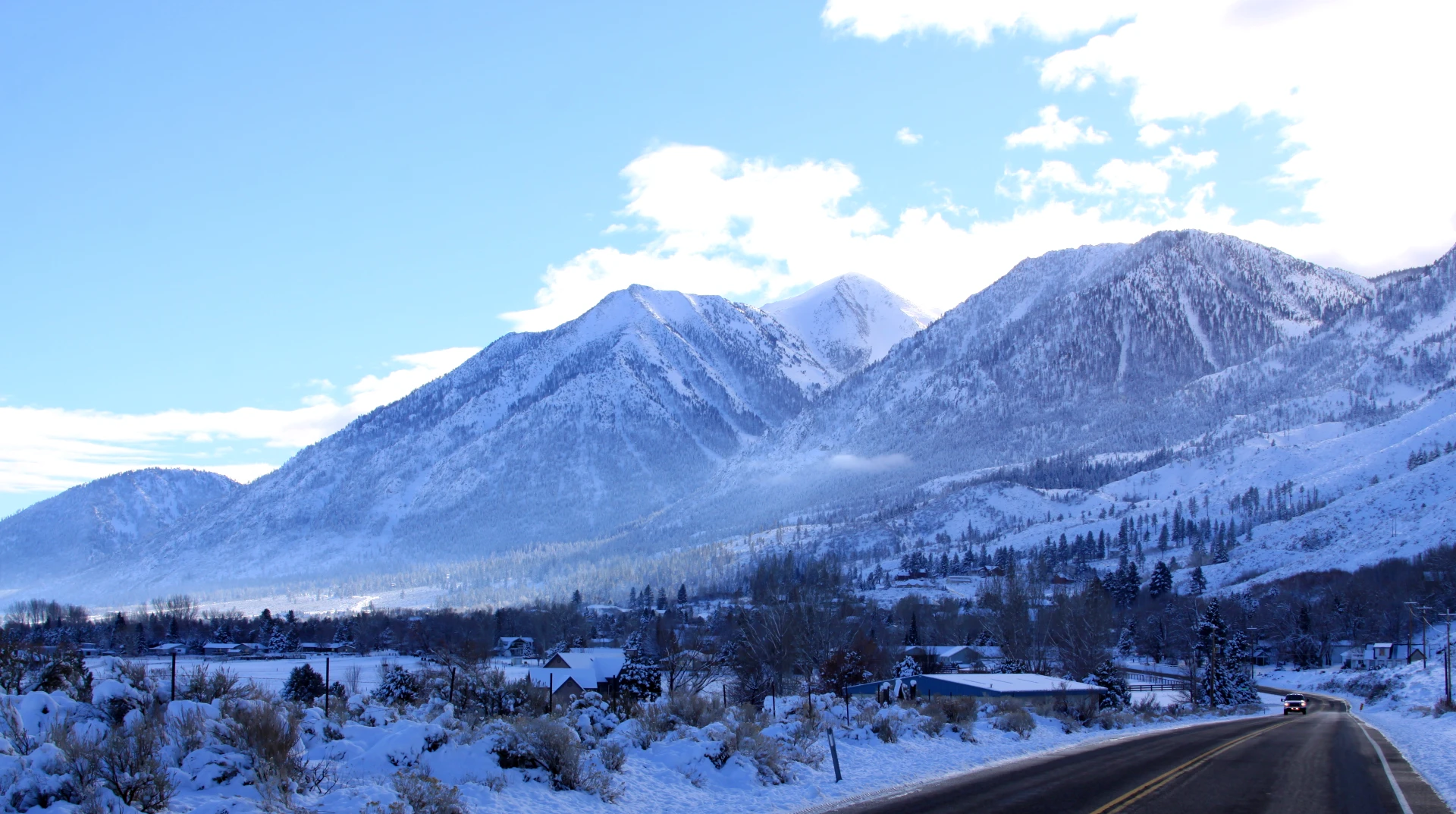 Further North on HWY 395 and the Eastern Sierra, visit The Carson Valley and Genoa, Nevada's oldest settlement, and the state capital city, Carson City. Often snow-free within hours after a snowfall, winter mountain bike trails are exceptional in this region and the Genoa and Carson City Hot springs provide a great afternoon treat after your adventures. There are trails to bike, back roads to buggy, mountains to climb, rivers to fish, and courses to golf.
Exploring the Eastern Sierras on Highway 395
Most visitors into the East Sierras travel through southern California from San Bernardino, but the Sierras are easily accessible through I120 from Central California region to Lake Tahoe. For a truly spectacular drive take Route I178 through scenic orange groves, stunning canyon routes with flowing rivers. You also enter the countryside but picturesque Isabella Lake region and ascend up the hill into mountains and deserts until you reach the I395. A major route through western Sierra Nevada.